PSP owners must pay to port games to PS Vita
Pay for UMD passport
Sony has released details how PlayStation Portable users can continue to play their UMD titles on the upcoming PS Vita.
Of course, the Vita lacks a UMD drive, so to play the old titles, Sony has come up with a device called UMD Passport, set to launch in Japan on 6 December and presumably over here in February 2012 when the PS Vita arrives in Europe.
Gamers must download a free app to the PSP, which will register the disk through the user's PSN account. When this is done, the UMD will be available for download on the PS Vita. But there's a catch: the game isn't free free.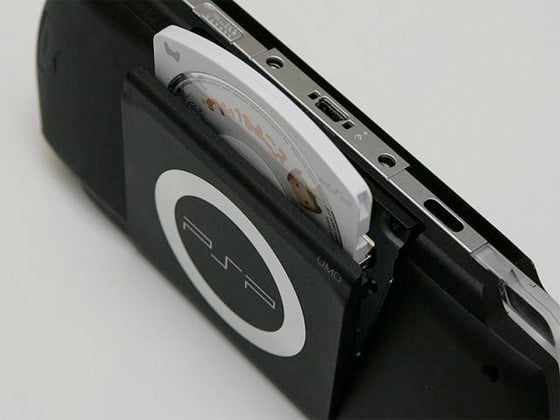 As it stands 40 companies will offer 200 UMD titles through the UMD Passport program. If you own the game, you can download them for an "agreeable price".
By that, Sony means between ¥100 (80p) and ¥2,400 (£19). So in order to get the games you've already purchased on your shiny new Vita, you'll have to pay for them again. Sounds a bit unfair, no?
The PlayStation Vita goes on sale in Japan on 17 December. It launches in the UK on 22 February 2012. You can read our initial thoughts from a hands-on with the PS Vita here on Reg Hardware. ®
COMMENTS
Way to rebuild customer goodwill there Sony :)
Well no, not really.
Unfair? Perhaps. Unexpected? Not at all. Isn't this what happens most times you buy a new console? Companies, especially Sony, seem less and less interested in any sort of backwards compatibility unless it's an excuse to make money.
Look at the games on the PSN, or on XBL for that matter, allowing you to pay even more money to play older games on your shiny new system. Hell, MS even charges you to port your saves from your old 360 to one of the new Slim ones, so frankly this is par for the course.
Reporter fail
How is this any different to buying old nes and snes games on the virtual console on Wii, we already own these games, but were willing to pay for them again to have it on our Wii.
Calling it unfair? it's not really is it. I dont think nintendo would listen if you told them you had the original cartridge to Mario Brothers, so you dont have to pay for it for the virtual console would they?
rock<->hard place
Free UMD via personal transfer would never make sense as an option.
Since the UMD games do not have a serial code, you would get the game for every UMD you put in your PSP even if the same UMD has alread been 'converted'. I can see why this might not be an option.
I was more hoping for an in-store trade-in option, where you put a UMD in a reader, log on to your PSN account, and the device shreds the UMD after successful activation. (or just hand them in and receive a voucher).
It's even worse for early adopters, I picked up a PSP in Hong Kong (because I happened to be there on holiday) before it launched in the UK.
It plays UK UMD media without any trouble, but I cannot connect it to the UK/Europe PSN because it's not a European model and I can't connect it to the Asia PSN because I live in the UK.
Don't you just love global companies? I like it best when they talk about being global, but carry on acting in a regional way.
Mind you, as I haven't even powered up my PSP this year, I'm not likely to be getting a Vita anyway.