Wowzers on the scenic front
Skyrim is definitely one reason to own a PC. The next-gen graphics meet my expectation of Bethesda and the Elder Scrolls series. While not as pretty as Witcher 2, the environment and storyline are far more open. If you see a mountain in the distance, you can be sure you can climb it. These aren't just rendered backgrounds, this is the biggest world you can imagine. I just open my map to marvel at a level of detail I have rarely seen in any game.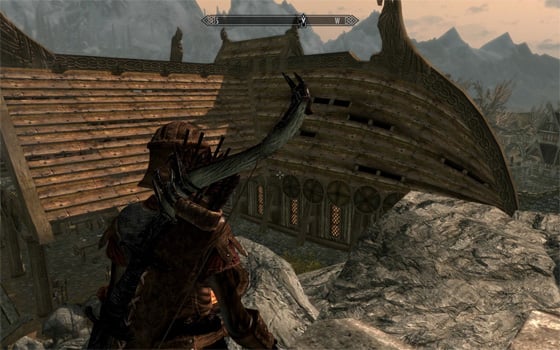 Boat house
This is a dangerous world of beautifully rendered animals, mythological and undead creatures. Finding the necromancy spell allowed me to reanimate some of these creatures at my leisure.
The addition of steam-powered automatons will please the steampunk crowd and add an extra dimension to the game reflecting its enormity and epic scope. Even at level 20, a giant's power attack can send me like a rag doll into the air. And watch out for those grizzly bears! You can't get much better than being handed a quest by a talking dog.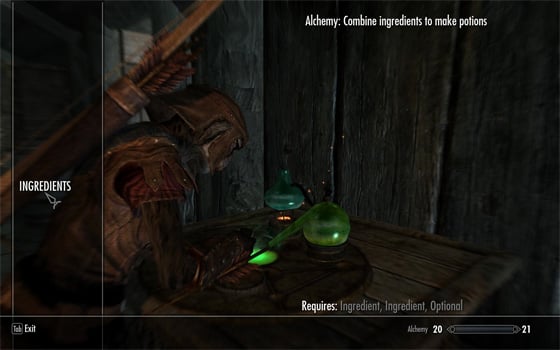 Lab to the living room
And so to the dragons and their mysterious reappearance. There are lots of them. I spent a plenty of time hiding in a bush trying to avoid them! Which was quite strange considering my character is apparently 'Dragonborn', a legendary hunter of the famed beasts. The voice is the power to use the language of Dragons and is central to the main narrative.
But it is surprisingly easy to get distracted from this main narrative BECAUSE HERE IS SO MUCH GOING ON! A long trek to consult some monks filled me in on the basics of learning the Dragon words of power to release special abilities such as fire-breathing.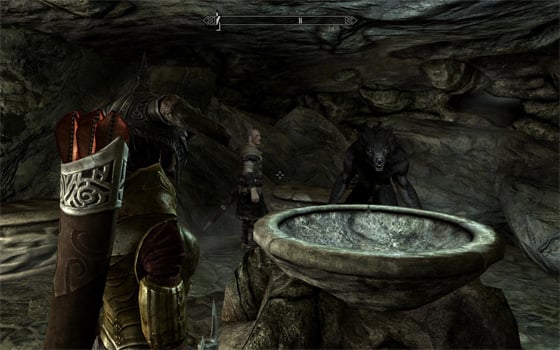 Bowl of pooch
The new Creation Engine does its job astonishingly. Mountain top ruins have age and authority with dynamic shadows and landscape textures realistically changed by windswept snow. Be warned about the weather in Skyrim - it is never on your side. I was attacked by a group of witches throwing fireballs out of nowhere and nearly died because I couldn't see where they were, it was snowing so hard.
COMMENTS
Face Arrow
If you're playing a sniper like assassin with a bow (and it's a great deal of fun) you can clock someone in the head with an arrow and they will, understandably, come looking for who did it. However should they not locate you after a while they will mutter that it was "probably just their imagination" and wander back to do whatever they were doing before their near fatal head injury with the arrow still embedded firmly in their face.
This never fails to amuse me, that's a pretty vivid imagination you've got there fella… now stand still again for just a second…
Agreed on Dialogue cringes....
I swear this game should have been titled: Elder Scrolls V - Land of Swartzeneggers based on the accents...
Except the user interface in Skyrim isn't a progression forwards, it's a step back to the days of DOS programs. It's just a series of text lists, no context, no colouring, no categories, no means to sort. It's just in alphabetic order of everything in that section.
For example, you need a Health potion. So bring up the potions list.
I'm well into the game 40+ hours, so have lots of stuff. So my potions list is about 3 screens long, and due to the random nature of the names of potions, i.e. a potion to Heal, could have 4 different names and so is in four different locations in the list, also if a potion is of a different strength (+25, +50 etc.), it has the same name, but is listed as a separate item. You have to actually highlight the potion to see what it does.
This really breaks the flow of the fight moments, it's like going from a manic fight, to looking at an Excel Spread sheet, but with no options to filter or sort items.
Just colour coding would help, or some filter buttons, Health, Magica etc.
This is an interface designed for a limited console controller.
25 hours in I fully agree with this review: amazing game with a clunky, jarring interface clearly designed for the consoles and then hastily ported over to the PC.
Hotkeys are especially annoying for Dual Wielders.
I'm loving it
Playing on the 360 as there is no way my laptop would come close to running it and I am loving it.
I love the world, I love how I feel like just a tiny part in something much bigger. The world doesn't seem to start when I turn my 360 on and stop when I turn it off.
I love the random moments. People running up to me to hand my random objects. Happily bartering in the market one minute and then a dragon attacks the city in the next. It just feels so epic. I'm about 40 hours in and have barely touched the main storyline. I just keep getting distracted by everything going on around me.
I can easily see me clocking up hundreds of hours on it.