The Elder Scrolls V: Skyrim
Bludgeons and dragons
At the dragonheart of it all...
I immediately recognised the abilities of the Creation Engine as a leap in graphics from Oblivion and even Fallout. Being able to look close up at 3D rendered rotatable models of everything in your inventory from mammoth meat to weapons is great and essential for oooing and aawing at quest objects.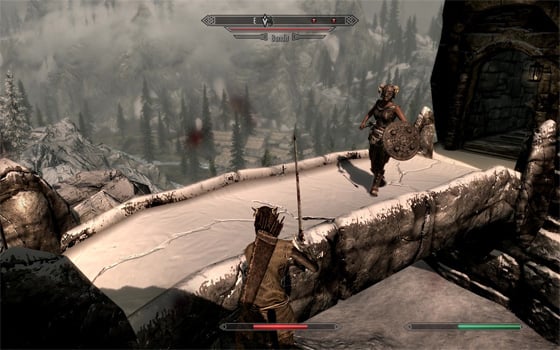 Thou shall not cross me
Dialogue does not play second fiddle to outstanding graphics in Skyrim. People talk around me and I can follow their voices, which makes the game a much more immersive experience than Oblivion with it's forced close-ups. I follow NPCs around as they go about their daily tasks while chatting to me about whatever quest I need to complete next. The odd compliment on my female physical appearance didn't go amiss either. Skyrim does an outstanding job of intuitive quest tailoring, matching and monitoring my gameplay and character style.
Skyrim's combat is remarkably fulfilling. Sniping giants from afar, or sneaking up on mighty vampires with a x15 damage backstab are equally enjoyable. During one my quests I became a werewolf, which really helped during the boss battles when I couldn't use my stealthy cat-like prowess. Bethesda have gone some way to creating near perfect pick and mix game mechanics.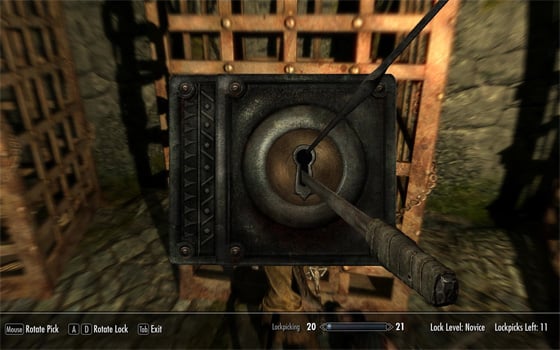 Pick it up
I can experience the world from a first- or a third-person perspective, and Skyrim plays equally as well in both. Coming from a World of Warcraft background, I felt more comfortable in third-person. But I could almost play through the game again because I expect, in first person, it is a completely different experience.
There is no doubt that Skyrim is an amazing game that you can spend 100+ hours exploring but I found the user interface terribly clunky and time consuming. My favorites list got too crowded and it took too long to select what I needed considering how many times I needed to changes spells or weapons. Hot keying is possible but in my experience not very user friendly.
Verdict
As professions go, what kind of assassin would I be without a couple of poisons and potions at my disposal? So I started using Alchemy. But it was also useful to have blacksmithing to sharpen my blades. High level blacksmithing would allow me to make magical weapons. Soulstones are used to power and create magical items, and I was lucky enough to obtain The Black Star which collected dark souls and is reusable. The quest to obtain The Black Star ended up in the backroom of a pub with me in werewolf form murdering the guests. Or was that just last Friday night at my local? Either way, I can't remember having more fun.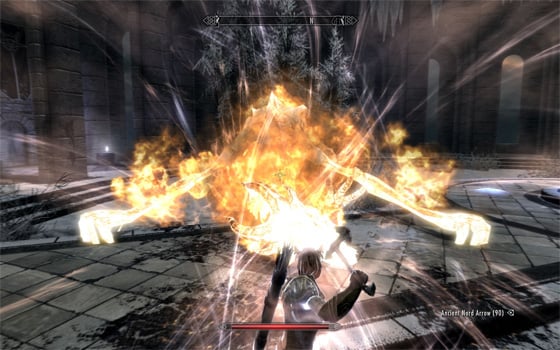 Serving up a portion of hot wings
As I take a break to open my next cider I am left imagining Skyrim as an MMO and doing this with my friends. Bethesda has created what MMOs should strive to achieve. Bethesda should be applauded - Skyrim is groundbreaking in its scope and vision. ®
More Games Reviews

The Adventures
of TinTin
Call of Duty:
Modern Warfare 3
Goldeneye 007
Reloaded
Battlefield 3
Uncharted 3
Sponsored: Minds Mastering Machines - Call for papers now open

The Elder Scrolls V: Skyrim
Break out the mead. Available on PC (tested), PS3 and Xbox 360.