Intel takes the heat off power management
Stay cool in the data centre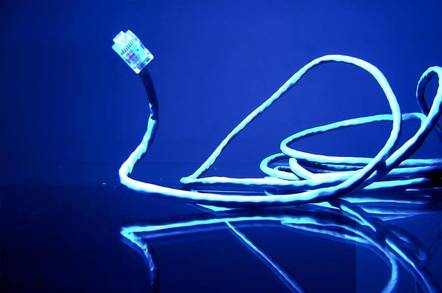 Intel has a new piece of software called Data Center Manager (DCM), which provides power management ranging from the individual server level up to the bird's-eye-view of your entire data centre.
There are still few supported devices for this fledgling product. Given Intel's heavy push for cloud computing, I expect that to change very soon. These are the systems supporting DCM out of the gate. Next year will look quite different.
DCM is impressive stuff. It can manage up to 10,000 nodes, 5,000 nodes per management server, with two tiers of management servers being the current maximum. It offers monitoring, trend analysis and fine-grained control.
Policy decisions
The entire thing is policy-based; you can set schedules for different levels of power management or base it on triggers of various sorts.
Think back to how impressed you were at Google moving virtual machines and workloads around in response to thermal excursions in its data centres. DCM is very nearly a pre-canned version of this technology.
While DCM does come with a default user interface, it doesn't provide that sort of flexibility entirely on its own. Then again, it doesn't have to. DCM is intended to serve as a plug-in for larger data centre management software.
There is a vSphere plug-in and support for a wide array of data centre management vendors stretching from Modius' DCIM to Visual Data Center.
Play by the rules
DCM exposes an easy-to-use API that truly shows the flexibility of policy-based power management. When you combine the fine-grained control of compliant equipment with this software, you get the ability to do remarkable things.
At the moment, you might need to do some scripting to get the really neat stuff going, but it is all there.
The fact that this is even available should point to how simple the future of this product will be. Regularly scheduled air conditioner maintenance? No problem. Set a rule: limit all servers in row A to 50 per cent power utilisation for two hours on the 15th of each month.
Vendors will start doing things that even Intel hadn't thought of
More management tools vendors will come on board supporting DCM. Current vendors will start doing things with the API that even Intel hadn't thought of.
I am interested to see how long it will take before it is supported by Puppet.
The potential is huge. Imagine being able to integrate with software or smart metres that keep track of the spot-price of electricity.
You could compare this to user demand as measured by other software and generate complex sets of dynamic policies that alter server availability and power consumption based on the balance between end-user demand and electricity costs.
DCM enables data centres that are aware not only of their physical environment but of economic or digital issues as well. Tie this in to more advanced software and you could probably script sets of triggers to migrate services to the public cloud when needed, and back to the private cloud again.
Green cloud
This is the beginning of a truly environmentally aware hybrid cloud.
The logging features here are important as well. DCM keeps a full year's worth of history on hand. Combined with its trending and analytics, it gives you an impressive overview of your power utilisation – critical data for planning refreshes or gauging remaining capacity.
The best part about DCM is that it is agent-less. No software is required on the physical systems; it takes advantage of various power management technologies built into the hardware.
If you are overhauling a data centre or planning a new one, take the time to give DCM a look. Certainly it requires some of the latest-greatest gear to work properly, but with the right bits in place it does a fantastic job of managing power consumption.
Considering that power is rapidly becoming the largest expense of any data centre, Intel's DCM will more than pay for itself. ®
Sponsored: Learn how to transform your data into a strategic asset for your business by using the cloud to accelerate innovation with NetApp