World's only twin jet-engine bike drives onto eBay
Pulsejet-powered cycle under the hammer
A motorbike powered by a pair of pulsejets popped up for auction on eBay this week.
Custom created by jet engine fan Bob maddox as an exclusive model for a wealthy customer, the intention was to build a two-wheeler that could exceed 200mph, biking blog Kneeslider notes.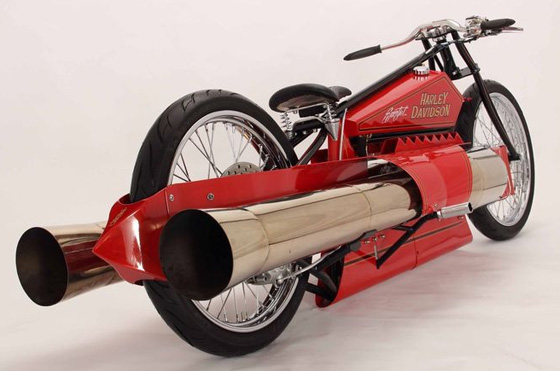 That well-heeled punter had to pull out of the purchase at the last minute, so the jet-propelled bike was put under the hammer this week.
Based on a 1929 Harley Davison track racer design, the bike is apparently the only one in the world to be given such config. As Wikipedia notes: "Pulsejet engines are characterised by simplicity, low cost of construction and high noise levels."
The pulsejet's front-facing air intakes are briefly closed during combustion sending all the explosive thrust out the back. The Germans used them in World War II to power V1 Doodlebugs.
The listing was soon pulled, though, with an anonymous buyer swooping quick to snap it up.
Before the auction came to a premature end, bidding stood at $25,000 (£15,700). For a bike this exclusive, that looks this badass, the figure it actually went for is likely to have been much, much higher. Vroom, vroom.
Have a ganders at the next page for more pics of this beautiful beast. ®
Sponsored: Minds Mastering Machines - Call for papers now open