Student cluster compo SMACKDOWN: Texas holds at 2-1
Taiwan 7-1, Colorado moves up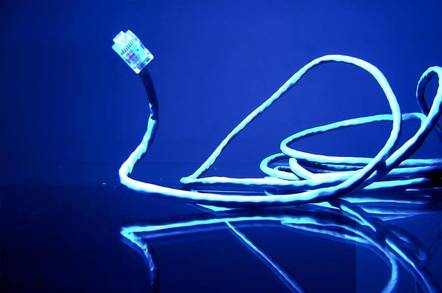 SC11 Another few days of betting gives us a better view of how bettors handicap the SC11 Student Cluster Competition (SCC). So what do we see?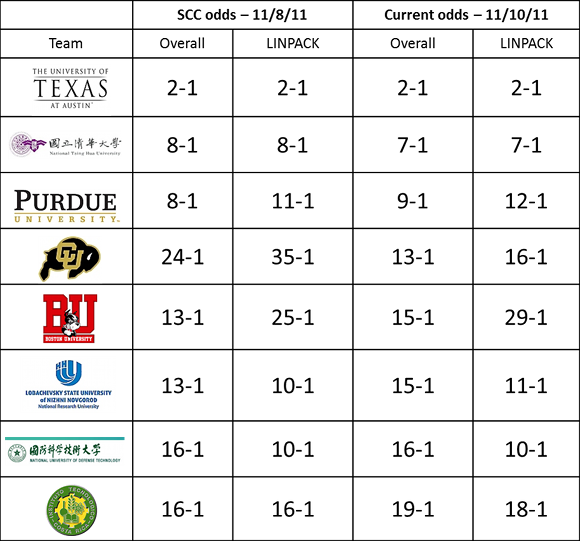 The first thing that jumps out at us is that the Texas Longhorn team is still the overall favorite by a wide margin. There are a few reasons behind this. First, it's a competitive team that scored the overall highest LINPACK in the 2010 SCC (breaking a teraflop) and came close to winning all the marbles.
We also see that Texas fans are shameless ballot box stuffers, practising the time-honoured tradition of voting early and often. Fair enough. They're also doing their share of trash talking. Here's a sampling of the comments we've seen:
"We're Texas. Don't mess with Texas."
"You mess with the Bull, you get the HORNS!"
"TEXAS WILL WIN IT ALL" (the all caps makes it much more impactful)
"Texas' team is godlike"
God likes university students, he also like clusters and really fast hardware. But he isn't so down with bragging and pre-game trash talking – at least that's what I learned from catechism when I was a kid. He has a way of smiting those that overreach. Then again, it's not bragging if you can back it up. We'll see if anyone can knock the hat off their collective heads in Seattle next week.
The team that did it last year, Team Taiwan, is back again in 2011 and is given a 7-1 chance of taking it all. I think those odds should be a bit narrower since this team has a pretty solid track record in the competition.
We also can't overlook Team China, which hails from the same institution that built the 2.6 PFLOP Tianhe 1A supercomputer. Are they really a 16-1 shot to win it all, or is this mostly a demonstration of how little the betting public knows about the teams and what they're bringing to the table?
The odds on a Boilermaker win stay about the same at 9-1 and 15-1 for LINPACK. They are one of the most experienced teams in the SCC this year and are definitely hungry for the win. Colorado is another team that has participated in every SCC and has yet to bring home the gold. The Buffalo roster is chock full of experienced veterans who have had another year to work on their game and get in shape for SCC11.
Boston University and Team Russia are both rated at 15-1 shots to take the overall title. BU is an unknown quantity for the most part. We do know that they held a campus-wide competition to make the team and we also know that it is the first team to field identical twins. Is this going to play a role in LINPACK? Or on the scientific apps? We just don't know at this point.
Team Russia has been to the party before and felt it could have done a lot better. They're coming back this year with the same coaches but a re-worked starting roster and a new commitment to winning.
Rounding out the list is the Team Costa Rica. The Rainforest Eagles are the biggest longshot this year at 19-1. This team is a bit of a mystery as well. It's their first SCC and they're bound to have some first game jitters. We don't know for sure what they're bringing for hardware or what kind of competitive spirit the team will bring to Seattle.
There's still time to lay down your own SCC bet. Do you think Texas will rule? Or do you think Team Taiwan or Team China will dominate? Can Purdue or Colorado use their vast experience to finally capture the championship? Or will one of the dark horses like Team Russia or Boston U come out of nowhere to win? Perhaps you think we'll hear the triumphant scree of the Rainforest Eagles? You can let us know here. ®