European boffins on voyage of discovery to the Earth's core
Incredibly powerful laser diamond probe declared ready
Top European scientists say they are ready to commence an exciting voyage of discovery - to plumb the very depths of the Earth's core, and find out the mechanism by which the planet's magnetic poles disappear or reverse themselves. A titanically powerful machine employing nuclear atom-smasher technology, diamond "anvils" and outrageously powerful laser beams has been readied in France at the foothills of the Alps, and was declared officially ready to go yesterday.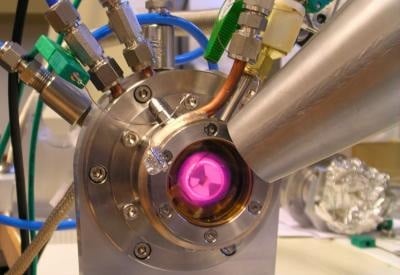 Recreating the Earth's core.
Sadly for the purposes of drama the mighty "ID24" is not an atomic mole-cruiser able to plunge beneath the Earth's crust like a submarine diving below the waves, boring its way through solid and then liquid rock using laser cutters and diamond drills carrying a team of adventurous boffins. But it's a pretty impressive piece of kit nonetheless.
ID24 is in fact a new X-ray laser beam line which has been installed at the mighty atom-smasher complex known as the European Synchrotron Radiation Facility (ESRF) at Grenoble. Its fiercely hot laser beams, combined with other technologies such as diamond "anvils" rammed together to concentrate terrific force on tiny areas, can create the same conditions of awesome heat and pressure found at the centre of our planet - or even at the centre of mighty Jupiter.
According to an ESRF statement announcing the debut of ID24 yesterday:
The Earth's interior is literally inaccessible and today it is easier to reach Mars than to visit even the base of the Earth's thin crust ... Thanks to new technologies employed at ID24, scientists can now study what happens at extreme conditions, for example when materials undergo a fast chemical reaction or at what temperature a mineral will melt in the interior of a planet ...

Today, geologists want to understand why the magnetic field changes over time and periodically in Earth's history, has disappeared and reversed.

We know even less about warm dense matter believed to exist in the core of larger planets, for example Jupiter, which should be even hotter and denser. It can be produced in the laboratory using extremely powerful laser shock pulses compressing and heating a sample.
"ID24 opens unchartered territories of scientific exploration," says Harald Reichert, ESRF Director of Research, in tinned quotes supplied as part of the statement. "I wish to congratulate the project team for extraordinary achievements, and I look forward to seeing some extraordinary new science." ®
Sponsored: Minds Mastering Machines - Call for papers now open