Nokia Lumia 800
Finn Win phone comes out fighting
Battery assault
Unlike most of the devices the Lumia 800 is competing with, there's no memory card slot, or front facing camera. Microsoft has yet to port its Skype acquisition to its flagship mobile platform. The absence of expansion and front camera is not a problem if you know what you're getting, but caveat emptor.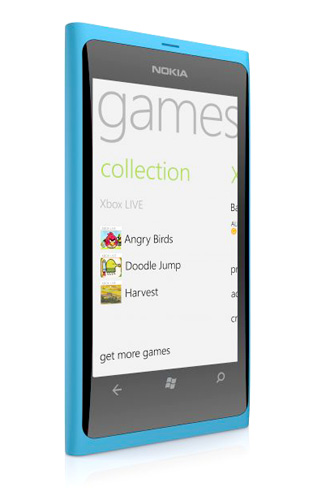 No memory card expansion, as is the norm on WinPho 7 handsets
The 800 x 480, 3.7in AMOLED screen is excellent, giving a very black black indeed, and enough brightness and contrast – at least in a gloomy North European country. It doesn't match the incredibly high density of the iPhone's Retina Display, and there's carping from purists for the choice of a slightly cheaper PenTile matrix than its rivals. But in practice I didn't find this mattered at all.
Text on the just-about-adequate web browser (Internet Explorer 9) looked shabby, but this may be a bad choice of fonts. And what's just-about-adequate here, is still streets ahead of Nokia's Symbian browsers.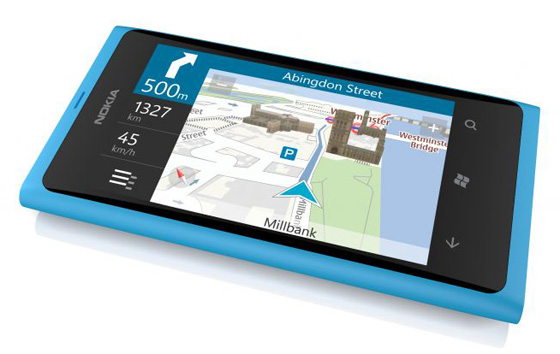 Nokia Maps is in residence alongside Microsoft's own maps
Another odd design decision turned out to be increasingly irksome. Microsoft's chassis specification makes a front facing hardware Search button mandatory. I expected this to be a Spotlight-style system search. But on the Lumia, this is hardcoded to Bing. It can't be changed to Google, but then Google can be pinned to the Tiles as a shortcut. It's also incredibly easy to press by accident.
The touchscreen explosion has eroded two of Nokia's key historical advantages: great battery life, and radio quality. Nokia phones historically boasted excellent signal gain and retention, and call quality – and these were a core part of their brand. But Apple and Android smartphones have lowered consumers expectations; phone calls are now considered just another feature.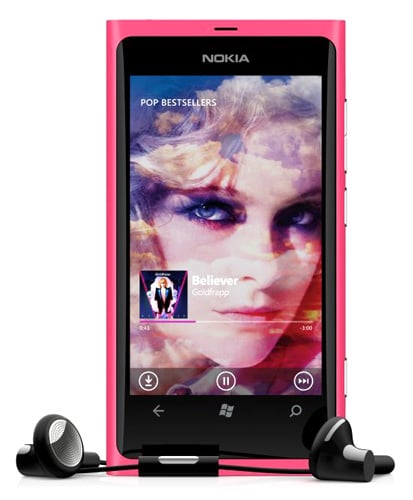 Music player, web browser, social messenger... oh, and a phone too, sometimes
Perhaps there's room to raise them again, but that might have to wait for another generation of devices: now that Nokia has bet the company on Windows, many more will undoubtedly follow. The Lumia 800 barely made it through a day on its battery, and while call quality and radio reception were perfectly adequate on the 3 network in London, the handset didn't scream "clear market leader". That said, it did gain and retain a signal much better than an iPhone.