Nokia Lumia 800
Finn Win phone comes out fighting
It's in the mail
Third party apps have previously tried to link recent e-mail and SMS to and fro with the contacts book. Well, this is much more ambitious: it unites communication from different protocols and services, by person, all under one roof, including the digital slimetrail we leave on social networks. The centre of gravity, though, is now on-line, rather than on a PC, or on the device itself.
This makes sense as the vast majority of non-technical people have always used a webmail service as their primary personal e-mail account. And Facebook or LinkedIn are considered the natural upgrade to e-mail. Even though I'm a minimal social network user (because I owe it to my contacts to protect their identity: it must not be inferred) I found WinPho 7's People function integrated things incredibly well.
To avoid the information deluge that swamps previous attempts at a "unified inbox" you can view the communications activity of subsets of people – separating "Friends" from "Attention-seeking internet blowhards" for example. And you can turn off the streams by service.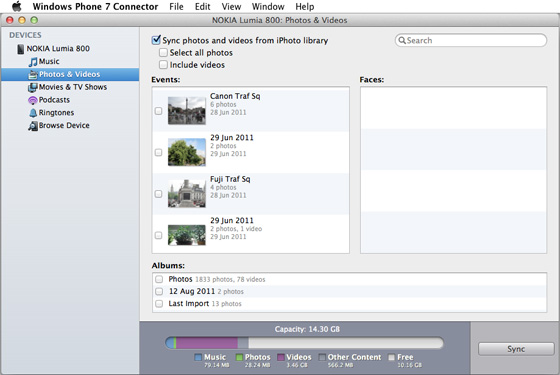 No contacts sync with the Zune equivalent on the Mac, but content transfer is very easy
But how did those contacts get there, you may wonder, since it doesn't sync with a Mac or a PC? Well, Nokia thoughtfully includes the traditional migration tool, Contacts Transfer, to haul your address book out of an old Symbian or S40 phone – and this worked flawlessly.
Indeed, I'd have been stuck without it, as my social network address books are more holes than cheese. The Contacts Transfer app supports the Bluetooth Phone Book Access Profile (PBAP), so Android and iOS devices can spill their guts to the Lumia 800. And if you're really old school, the People app will import Sim card contacts too.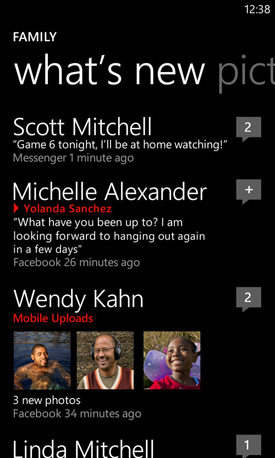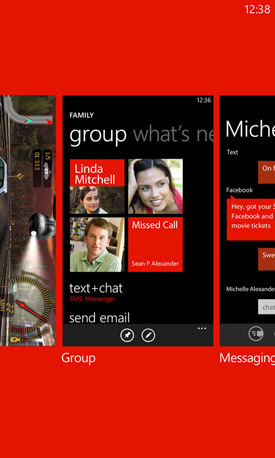 Network contacts updates and the carousel scrolling between apps
The design, based on oversized typography is very usable. That's because much of the traditional UI chrome is simply absent. Mango even hides most of the traditional phone status indicators at the top, too: the clock and WLAN status are visible, but network signal strength and operator ID must be pulled down with a swipe.