Where are all the decent handheld scribbling tools?
Shove your fondleslab, we want a keyboard
Neo... nobody has ever done this before
The Dana was followed by the Neo.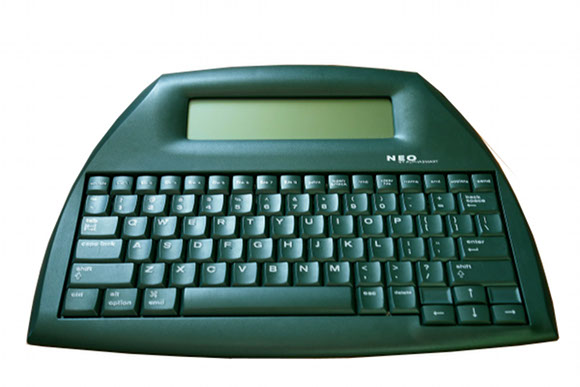 The Neo (click to enlarge)
It's half the price, but returns to the style of the four pre-Dana generations of Alphasmart appliances from the 1990s: it doesn't have a full-function OS, just a text editor and the ability to transmit copy to a PC, wirelessly or by cable. Simple, cheap – and totally inflexible.
Both machines demonstrate one of the critical blunders of the designer of low-end kit: don't lumber it with gratuitous limitations. Give its users the ability to make the best possible use of it by making it as good as you can for its weight, form-factor and price, and they will find uses for it that you never imagined.
Notebooks are great for what they do, but they have snags. Silly as it seems, the raised lid of a notebook is a psychological barrier between people; you can't see what the user is looking at, and their attention is not entirely yours. Meanwhile, hinges are weak points that have killed many a cherished lappy. Full-function OSs take time to boot, sleep, wake and shutdown and need acres of storage, which raises the cost and power consumption – and of course, such OSs need care and maintenance, too.
Slates, meanwhile, are great for media consumers, but sod all use to content creators – and it's worth noting that they're all bombing except the iPad, anyway. Coincidence?
But there is another way. These days, a portable word processor with a smartphone-type OS could be cheap, run for days on a charge, and make it viable to quickly do your email, consult a thesaurus or check your facts on Wikipedia as you write your next Great British (or American or whatever) novel. One of the key things is not to make it tempting to surf the web or play games all day. No Flash, no Java, probably no touchscreen, perhaps even no colour or sound – just an MS Word compatible editor and enough internet capability to check your facts and then send off your immortal prose.
The ingredients all seem easy enough: a full-size, full-travel QWERTY keyboard with a low-power screen, just wider than a full page but shallow enough to keep the device small and light and power-frugal. A transflective LCD or IMOD display would be ideal. Monochrome would probably do, maybe even e-paper. Plenty of battery oomph, so that it runs for a week or so on a charge. Ideally, at a push, you could run on a handful of ordinary AA alkaline batteries if you're away from your charger. Relatively modest amounts of storage, but at least two storage card slots to make it easy – and cheap – to add more space and to copy stuff from card to card. A modest ARM chip, a lightweight Linux and a world-class text editor – something like Emacs but with a friendly GUI front end on it, say.
If some Pacific Rim OEM could tear itself away from making cheap and nasty Android-powered iPad knock-offs, a device like this could be put out for £100 or less. They'd easily could shift a few container loads of them – not only to hacks and scribblers, but to school kids and the developing world. ®
Bootnote
In the line of research for this article, your humble scribe went out and bought both a Z88 and an NC100. They're lovely but sadly not quite up to snuff in 2011. They cost over a tenner each, too. Just. The Reg spares no expense in pursuit of a good story. Or this one, for that matter.
Sponsored: Minds Mastering Machines - Call for papers now open