Why GNOME refugees love Xfce
Thunar rather than later...
There should be no conflicts with Thunar
Fortunately most GNOME apps don't require the full guts of Nautilus to run and Xfce already has many of the GTK dependencies you'll need (though quite a few GNOME apps will require libnautilus). Installing GNOME dependencies won't slow down Xfce and most of the time there won't be any conflicts with Thunar. That said, there is definitely something of an simple-is-better ethos in the Xfce community and users tend to encourage newbies to try simpler apps to see if they meet their needs before running off to install half of the GNOME suite. The Xfce wiki maintains a nice list of alternatives to the default Xfce apps that are still relatively lightweight.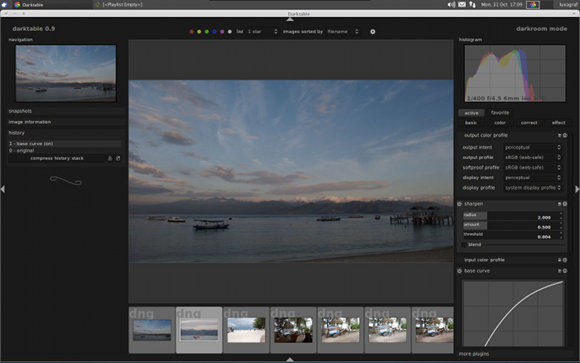 Darktable running on Xfce (click to enlarge).
One place Xfce's lightweight apps approach falls on its face is photo management. Out of the box there's the uber-lightweight Ristretto, a very basic image viewer, and then the complete opposite end of the spectrum, Gimp. Editing RAW images in Linux isn't a lot of fun in any desktop environment but I generally use Darktable in conjunction with Gimp. Since the latter was already installed, it took just a few minutes to install Darktable. Other options to fill the gap between Ristretto and Gimp include GNOME's Shotwell or KDE's digikam, though again, both will require installing some dependencies.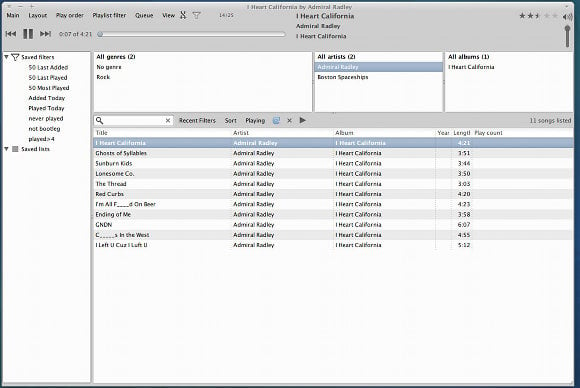 Lightweight music player gmusicbrowser (click to enlarge).
For music Xfce offers gmusicbrowser, a lightweight music player that can handle the basics like playing music, creating playlists and searching your library. Gmusicbrowser is a new addition in Xfce 4.8 and fills the 80 percent use case quite nicely. It gets a bit slow with very large libraries and lacks more advanced features like lyrics or album artwork. For those that want something with more power there's always Banshee or Rhythmbox.
For word processors Xfce ships with Abiword which works just fine for those with basic word processing needs. If you need something more powerful you can always ditch Abiword for the LibreOffice suite.
That is in fact the mantra of Xfce: there are always more powerful apps available, but give the basics a try and see if they don't work for you. It's a philosophy that makes for a lightweight, but very capable Linux system.
Xfce isn't GNOME 2.x, nor is it supposed to be, but it does make a capable replacement for Linux users that are less interested in the wow factor of GNOME 3 and just want to get some work done. If you've felt left behind by GNOME's attempt to redefine the desktop experience and just want a desktop that works the way it always has, Xfce fits the bill. ®
Sponsored: RAID: End of an era?