Panasonic preps rubber-clad Android tablet
Ten incher for men on poles
Looking for an Android fondleslab that's a bit less fragile? Next Spring, Panasonic will release what it hopes will be just the ticket.
The 10.1in Toughpad FZ-A1 will run Android 3.2 Honeycomb - possibly Ice Cream Sandwich instead, though Panasonic is playing safe for the moment - on a 1.2GHz dual-core Marvell processor. Chuck in a gigabyte of memory; 16GB of Flash storage with a micro SD slot for more; 2Mp and 5Mp front- and rear-facing cameras; and micro USB and HDMI output, and you have a stock Android tablet spec.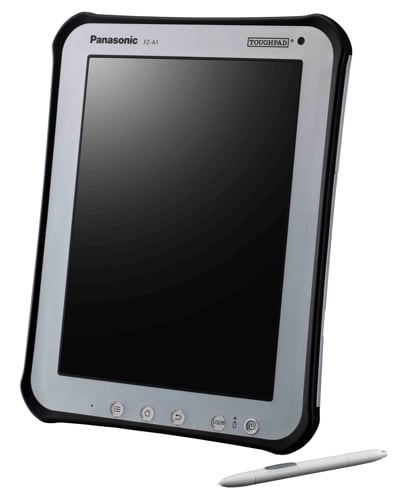 Then you see Panasonic's customary Toughbook family rugged, rubber-rimmed case design and the fact that the Toughpad's display has a 4:3 aspect - it's 1024 x 768 - ratio not the usual widescreen, and you'll realise this is not your usual Android fondleslab.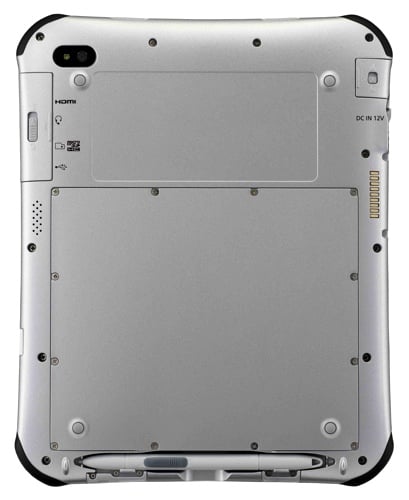 It even has a replaceable battery, though at the cost of thickness and weight: 17mm - twice the thickness of an Apple iPad 2, Samsung Galaxy Tab 10.1 or Toshiba AT200 - and 970g.
Both 2.4/5GHz 802.11n Wi-Fi and Bluetooth 2.1 are included as standard. 3G is optional.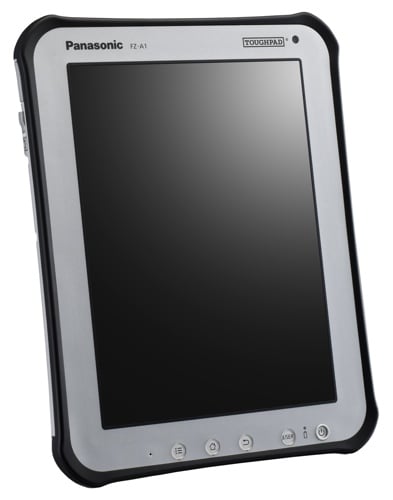 The Toughpad FZ-A1 will be available in the Spring of 2012 but not for the weak of wallet: the basic model will ship for around £875 inc. VAT, with the 3G model set to set you back over a grand. ®
COMMENTS
Re: Fondleslab -- HA HAAA HO HO HA HA HEE HO
Tough luck - we like it.
Kewl!
Fondleslabs? Some like'em with some extra girth. Robustness is also a good thing, can take that extra handling.
What looks good to the eye and what feels good to the hand are not always the same.
And with that plastic stick, it can also turn tricks some of them other emaciated slates can't.
Price
At that price it will only be sold to the big corporates who implement big government projects.
Re: Fondleslab -- HA HAAA HO HO HA HA HEE HO
the funny thing is that the SLAB title really fits this one.
At 2.1lbs (0.952 kg) and 0.7" thick without any accessories it's quite heavy as hell to handle for extended lengths of time in just one palm. Samsung's Galaxy Tab is only 1.2lbs (0.544 kg) and only 0.33" thick, HALF the weight and thickness of the panasonic SLAB
Oh.. and the panasonic PR spinners managed to spit out this bit of Vogon prose when they talk about the difference: (from the PDF file Toughpad_ConsumerCompetitiveChart.pdf on panasonic's site)
"The Toughpad A1 has a significant rugged and performance advantage for only a slight difference in weight and thickness."
rofl, "slight difference" my ass, the thing is more than DOUBLE the thickness and almost double the weight!
At that price, I could afford to drop my less than tough Transformer and replace it twice over.