OCZ exposes bulging solid disk for 2012
Just glad to see you, really
Happy new year: OCZ expects to ship flash drives with a 50 per cent capacity jump next year, starting shipments in January.
It's going to ship 3-bit multi-level cell (MLC or TLC) flash, according to Stifel Nicolaus analyst Aaron Rakers, who was at an OCZ investor presentation last week.
TLC flash is inherently slower, less reliable and has a shorter working life compared to 2-bit MLC. These things have to be fixed by over-provisioning, better error correction and detection, and clever ways of reducing write frequency in the flash controller.
Ryan Petersen, OCZ's CEO, said that this TLC (Triple Layer Cell) product would have a four-year life and the cost/GB would be more than 30 per cent below current product prices.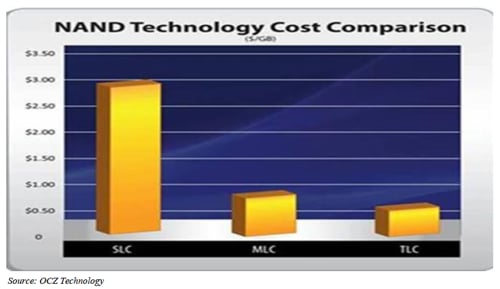 OCZ NAND cost comparisons
The chart shows OCZ's general view of NAND costs for SLC, 2-bit MLC and TLC flash. We can roughly say SLC is $3/GB, 2-bit MLC $0.75/GB and TLC will be $0.60/GB. This might be thought not to be such a cost decrease as earlier productions of TLC pricing suggested.
OCZ reckons it has an up to two-year lead in TLC flash compared to other suppliers and may be pricing accordingly.
OCZ will use its in-house Indilinx Everest 6Gbit/s SATA controllers in the products and says it has a strong relationship with a flash supplier.
This could be Micron, with whom OCZ has a wafer arrangement to have Micron produce OCZ-branded flash and deliver predictably better performing product.
Rakers writes: "The company announced that it will have new controllers rolling out over the next several months – next-generation high-performance and consumer platforms launching in January (Native PCIe and SATA support, TLC support, up to 70k IOPs and then moving to 100k IOPs, and a reduction of costs of up to $10 per SSD shipped)."
Next autumn the Indilinx controller will get a firmware refresh with the ability to double flash's working life through branded nDurance v2 technology.
If Micron is supplying OCZ's TLC flash, then we might expect Micron to produce its own TLC product – unless OCZ has an exclusivity deal.
SanDisk would no doubt dispute OCZ's claimed TLC lead. It has its own Pliant controller technology and that may well be being focused on countering TLC disadvantages. We could be seeing intense OCZ-SanDisk competition in the TLC product space in the second half of next year. ®
COMMENTS
"normal joe"
"I mean, hard discs aren't forever but the ordinary Joe doesn't usually fret about the actual lifetime."
Normal Joe still doesn't have to worry about SSD lifetimes. Current MLC drives can take quite the hit. A 120GB SSD with perfect wear leveling (5000 writes per cell), heck, let's drop that to 4000 for "imperfect" wear-leveling, can write 480TB worth of data before having troubles (cells no longer able to be written to). That's 263GB/day for 5 years. 182MB/min of continuous writing. Normal Joe won't do that. If we half that (fair guess TLC will have 2500 write endurance), then it's only 131GB/day. If Normal Joe does more than that in a day, they're not Normal Joe. An Enthusist (or higher) should know better anyway and have a few TB HDDs for their torrents or video processing anyway.
Re: normal joe
Thanks! That's the sort of numbers I needed to see.
4 year product life != Mean Failure time
Frankly a lot of the "new" MLC/TLC drive arrangements coming out simple dont have good sampling data for MFT, or if the drive slowly dies with dwindling usable space or if it grinds along with its ECC doing more and more work and eventually just falls down dead. I dont think they're that trustworthy for enterprise and for home users it _still_ looks like running a little SLC boot drive and traditional platters for your archival/storage stuff too.
WTB good MFT statistics, but then by the time you could puslish a spread there'd be a new tech generation out there. unfortunate situation.
If it helps
the first HDD I bought in 1985 cost £100 with the controller installation costing another £100, to put a stunning 10 megabytes on my system.
It could take every single item of commercially available software for the operating system I was using and leave 4 megabytes free for my novel.
Mind you, for a few weeks, I felt like I ruled the universe
hmm.. hard drives now £££££ and scarce.... SDD sales up..
handy that HDD are now like golden hens teeth...
Its almost like a conspiracy..
I'm still weeping into my keyboard at buying 2TB for £85 each.. £85!!