Call of Duty: Modern Warfare 3
Barrels of fun
Quite a looker
Where Battlefield 3 developer Dice plumped for a souped-up engine – pushing current PC hardware to its limits and, if I'm honest, looking perhaps a tad underwhelming on console – MW3 coder Infinity Ward accepted its established IW engine's limitations, content to merely tinker.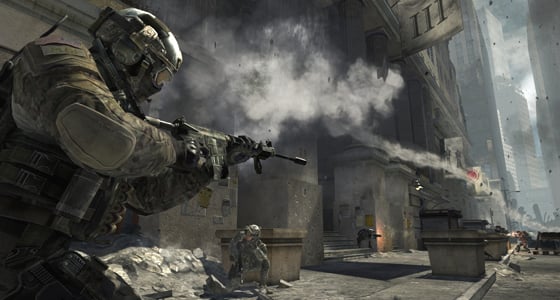 A bad day to quit smoking?
The result is that MW3 looks stunning on consoles. Yes, it's technically behind BF3's Frostbite 2.0 technology, but it's nonetheless capable of throwing all kinds of special effects at us that the downscaled Frostbite is simply unable to when running on anything other than a PC.
A mission on board a crashing plane, for example, is reminiscent of an equally impressive scene from Uncharted 3, complete with rapidly disintegrating fuselage and all.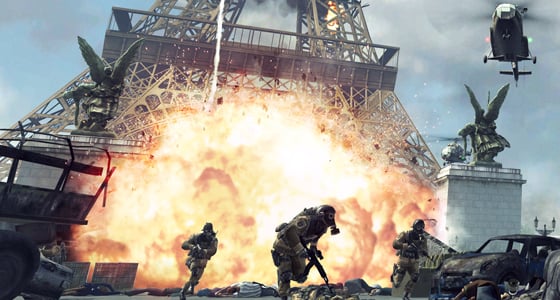 An American in Paris
And an eerie shootout taking place in the midst of a sandstorm not only blurs the target in your scope, but serves to cunningly disguise any graphical shortcomings. It's tricks like this which keep the series looking fresh despite the two two years since the last MW outing.
That said there's little here action-wise that didn't appear in MW2. The aforementioned sandstorm and crashing plane scenes, an early sub-aqua assault on a Russian submarine - with pulse-pounding speedboat escape - and sojourns to Paris and London, all window dressing for what is essentially more of the same.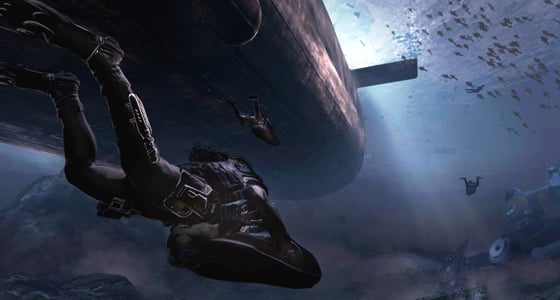 Flush a floater out
There's the ubiquitous aerial bombardment mission, the 'quietly does it' mission sneaking into enemy territory, the constant dashing into and out of cover - something MW3's hostiles do at the double - and the predictable handing out of mortars and rocket launchers just when they're required – handy that.
Sponsored: Minds Mastering Machines - Call for papers now open