IBM: record web sales by phones, tablets this month
iPhone, iPad owners keenest to buy
As many as 15 per cent of web purchases may be made using a mobile device this month - three times the percentage a year ago.
The key caveat is that these are numbers from the States, culled from traffic data taken by IBM from "500 leading US retailers". That said, we'd expect the UK to be not so very far behind, given the similar states of the two nations' economies and levels of mobile device ownership.
The 15 per cent is also a forecast - the last month of hard data IBM has is October, in which mobile traffic accounted for just under 11 per cent of visits to the aforementioned sites, and just under ten per cent of those sites' sales.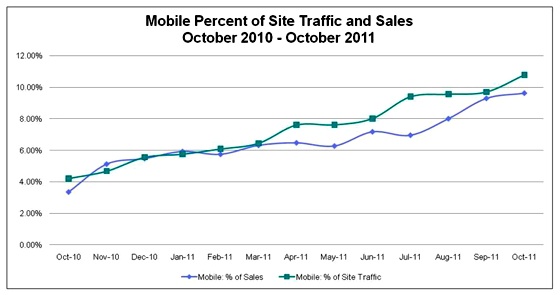 Source: IBM Coremetrics
iDevices and Android lead the march. iPhone traffic accounted for just under four per cent of online shop visits, the iPad for over 3.5 per cent, and Android in all its forms - phone and tablet - for less than 3.5 per cent.
Adding those figures and comparing the tally with the total number of website visits to the sites IBM tracked shows that other mobile operating systems and devices barely registered.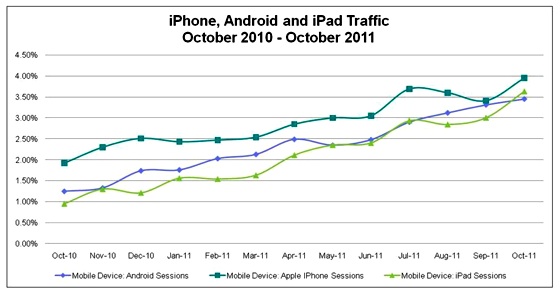 Source: IBM Coremetrics
Looking back a year, the iPhone accounted for under two per cent of store visits, Android 1.25 per cent and iPad just under one percentage point.
Overall mobile traffic to the selected retail sites was just over four per cent in October 2010.
This year, shoppers using an iPad will lead to more retail purchases more often per visit than other mobile devices, IBM forecast. This trend is based on October 2011 figures where iPad conversion rates reached 6.8 per cent as compared to the overall mobile device conversion rate of 3.6 per cent. ®
Sponsored: Minds Mastering Machines - Call for papers now open