Teradata embiggens on big data
Enough disks to get through the year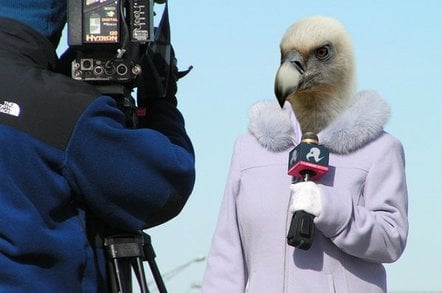 Data warehousing pioneer Teradata is riding the big-data wave to higher sales and profits.
In their third fiscal quarter, which ended in September, the company brought in 18 per cent more money peddling data warehousing and big-data appliances than it did a year ago, hitting $287m, and services sales went up a sharp 28 per cent to $315m. The consulting services part of that was up 34 per cent to $176m, and maintenance services rose by 21 per cent to $139m.That gave Teradata $602m in sales, up 23 per cent, of which $87m dropped to the bottom line, an increase of 16 per cent over the year-ago period.
Yup, NCR spun out Teradata a few years back. I guess The Cash didn't do any predictive analytics on that one...
Mike Koehler, the company's president and CEO, said in a conference call with Wall Street analysts that Teradata's new customer win rate "has never been better," and that it added five Fortune 500 customers in the quarter.
Teradata has done a number of big acquisitions this year to help it expand its big-data chewing capabilities (Aster Data) and to offer a converged data analysis and marketing software (Aprimo), but Koehler said that the core data-warehousing business that represents the bulk of the company's sales is still growing at a rate of 15 per cent year-on-year for the first three quarters of 2011. Aster Data has not yet contributed significant revenue, and Aprimo will account for about 3 per cent of revenue growth in the fourth quarter. (Teradata did not provide sales figures for either of these products.)
Teradata's expansion into 60 new sales territories is one of the drivers of growth. These sales territories, which are scattered around the globe, generated $70m in incremental sales in 2010 and are on track to deliver $120m in sales in 2011. The appliance products, which are tweaked and smaller-scale data chewers, continue to track between 10 and 15 per cent of overall product sales, and that has also helped boost revenues this year.
On a geographic basis, the Americas did best, with sales up 28 per cent to $375m. EMEA grew almost as much, up 22 per cent to $133m. The Asia/Pacific-Japan region, which you would think would be exploding, rose by only 7 per cent to $94m, and at constant currency this business actually shrunk in Q3.
Koehler said that despite all the issues with the European debt crisis, initiatives at financial services companies to reduce costs and to do a better job with analytics was a "double-edged sword," and that, ironically, it was creating demand for Teradata products.
And as for the disruptions in the supply chain for disk drives caused by the flooding in Thailand, he said that Teradata was working closely with its suppliers and had enough supply to get through the fourth quarter with no problems. Koehler conceded that Teradata did not have visibility into the supply chain beyond that. Despite all the ooh-ing and ahh-ing over flash storage these days, disk drives are a key – and often the most expensive – hardware component in a data-warehousing system.
Because biz is so good, Teradata boosted its Q4 guidance by one point and now expects revenues to grow by between 19 and 21 per cent. The company also raised its full-year earnings per share guidance, saying it will come in at between $2.25 and $2.30, which is quite a bit better than the $1.98 to $2.03 per share it had been expecting earlier. ®
Sponsored: Minds Mastering Machines - Call for papers now open