The Great Smartphone OS Shoot-out
Android vs iOS vs Windows Phone vs BlackBerry
Instant Messaging
What we have here is a failure to communicate
With BlackBerry Messenger this should be a slam dunk for BB, but then came a three-day meltdown and the horrible realisation that everything depended on the contents of a building in Slough. Still, when everything is up and running it works a treat, and bouncing around BB's own servers can save serious money when you are roaming abroad.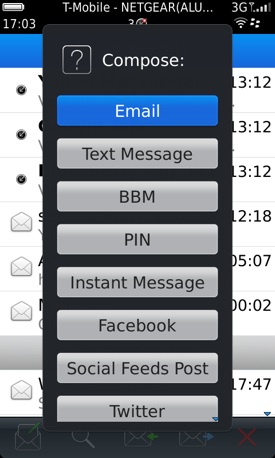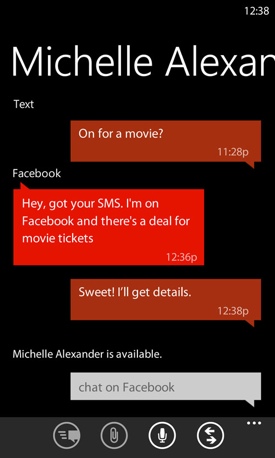 BlackBerry integrates many services into its messaging app (left), as does WinPho 7.5 (right)
Combined messaging is where WinPho 7.5's tightly integrated and controlled UI comes into it's own. Windows Live Messenger, SMS messages and Facebook chat, all can be grouped together into the Messaging app and monitored through the Messaging tile. With messages from all three sources falling into the one thread it's really rather impressive.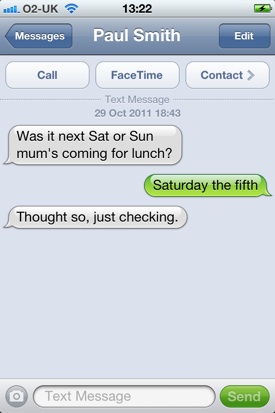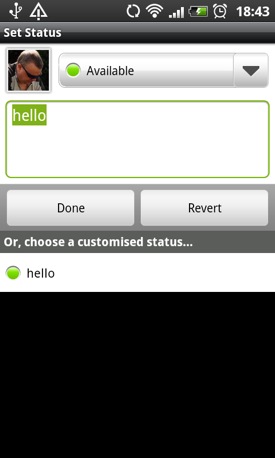 Messaging on iOS (left) and Android (right)
Apple and Google bring up the rear here. Not that's there anything wrong with Google Talk and iOs' Messages app - and, of course, both platforms support Skype, which is a major advantage over Blackberry and Windows - it's just that they don't offer the integration of WinPho, or the unbiquity and security of BBM.
Instant Messaging








BlackBerry comes up on the inside and just noses ahead of WP7.
Email
Just how many accounts does a man need?
WinPho 7.5 was the only device here that didn't snag the server settings for my Fastmail account from the web, meaning I had to set it up manually. Not a big deal, I grant you, but it's a trick even the Android email client can pull off.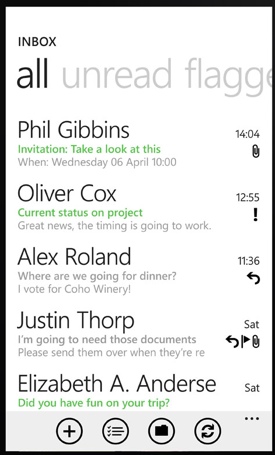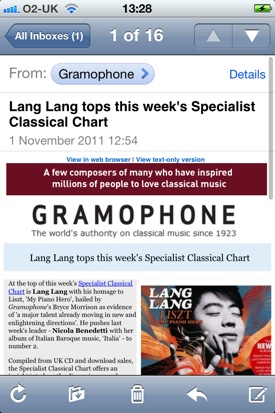 Both WinPho 7.5 (left) and iOS (right) do a good job of integrating multiple mail accounts
Otherwise, it's a tale of three against one. iOS, BlackBerry and WinPho offer really rather fine unified email inboxes that make handling multiple accounts as easy as falling off a soggy log, but the stock Android email client is a nasty little affair full of dead flies. Clearly, Google thinks everyone should be using its Gmail app.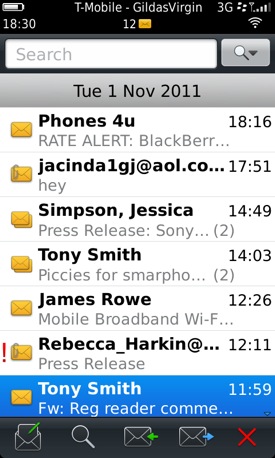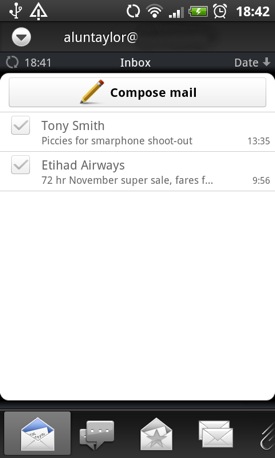 BlackBerry's stock email app (left) is one of the OS' strong points. Not so Android's offering (right)
Of the other three, I have to admit to a sneaking regard for the BlackBerry e-mail client, which lets you compose mail, texts, BBM and other IMs, as well as Facebook and Twitter updates, all from the one place. Good to see RIM keeping a firm grip on the essentials.
Instant Messaging








A photo-finish between iOS, WP7 and BB. Android is a three-legged nag in this race.
Verdict
None of the operating systems I've looked at here get it staggeringly wrong. RIM's BlackBerry is starting to look long in the tooth - sometime I though I'd slipped back into Windows Mobile - and, like Android, is prosaic rather than pretty.
Undoubtedly, iOS is the most aesthetically pleasing phone OS. And while Windows Phone is bravely - and refreshingly - different, it's stark look is an acquired taste.
WinPho is the newest OS, so it has some catching up to do to match the others for functionality. But it's getting there. And, for the moment at least, it's pleasantly quick.
Of course, no matter how good it is, if you're an open computing buff, a Microsoft product will not appeal, nor an Apple one.
Contrariwise, Apple's excellent content shops and playback capabilities are sufficient to satisfy anyone unopposed to or disinterested in the walled garden.
The crucial point is that there is, for the moment, plenty of choice. Take a look at all of 'em and find the one that most floats your boat. ®
Sponsored: Minds Mastering Machines - Call for papers now open