Whinging Brits reflect on epic Oz road trip
El Reg hacks versus the mighty Outback
Pom Whinge 3: Coverage? What coverage?
Apart from the Telstra weekend non-activation outrage, it quickly became apparent that the company has resolutely ignored the Outback. On a route much travelled by local, tourists and road trains, not even roadhouses have any kind of mobile coverage which would enable people to make calls and the long-suffering locals to get onto the internet without the aid of a satellite dish.
Sure, the distances involved are vast, but we became increasingly convinced that, given the will, Telstra could make use of the existing radio repeater masts to get the thing sorted.
No doubt Oz experts can set us straight on why this can't be done, but they are invited to imagine heartrending sight of Drew mournfully staring at his iPhone in the vain hope of contact with civilisation.
Mercifully, full contact with the outside world was re-established at Coober Pedy – the celebrated opal-mining town. With an overnight base of operations established in an underground hotel (pictured below), and the Telstra dongle giving five bars coverage, Drew was able to hook up his iPad fondleslab for the first time since Alice Springs.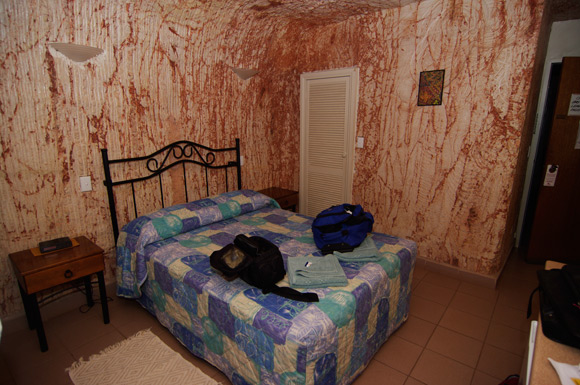 Yes, I'm ashamed to admit that the El Reg Oz travelling circus was packing a Jesus Phone and iPad (terrifying picture proof below), as well as less divine devices running pagan Windows. I'm old-school, and did a bit of harrumphing about the fondleslab, especially when I needed to transfer some snaps to it with a USB stick, to be told such archaic practices were proscribed by the Church of Cupertino.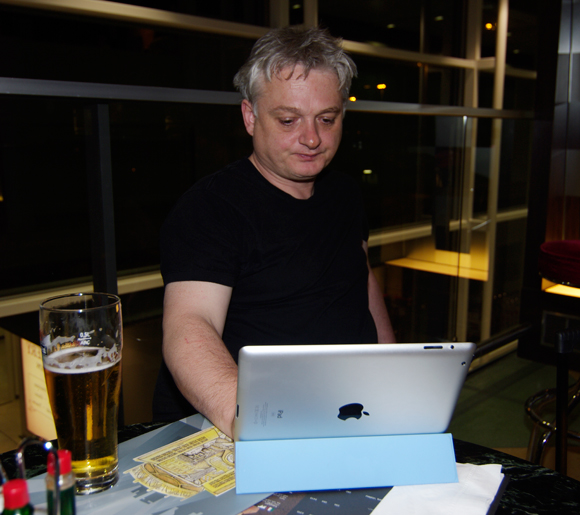 However, the iPad did prove a lifesaver in Adelaide, where Drew was able to use it in the car, and in the pouring rain, to book a last-minute hotel on the net. We'll call that a draw, then.
We'll also have to declare the final Oz wildlife tally a draw. Despite police warnings at the WSC press briefing that we foreign media types were pretty likely to end up in a helicopter air ambulance as a result of hitting a kangaroo at high speed, we managed to avoid marsupial mishaps.
This, however, was due in part to not seeing a single live kangaroo hopping about during our whole trip, which can only mean...
Pom Whinge 4: Kangaroos
Sure, we clocked a few emus, and a couple of lizards, but where were the bloody kangaroos? The Stuart Highway verges certainly provide plenty of entertainment for aficionados of kangaroo roadkill, but we left Darwin determined to spot Skippy, and the little bugger refused to play ball.
Oh, alright then, we did encounter one kangaroo - this joey** who'd been rescued by a local. Bless: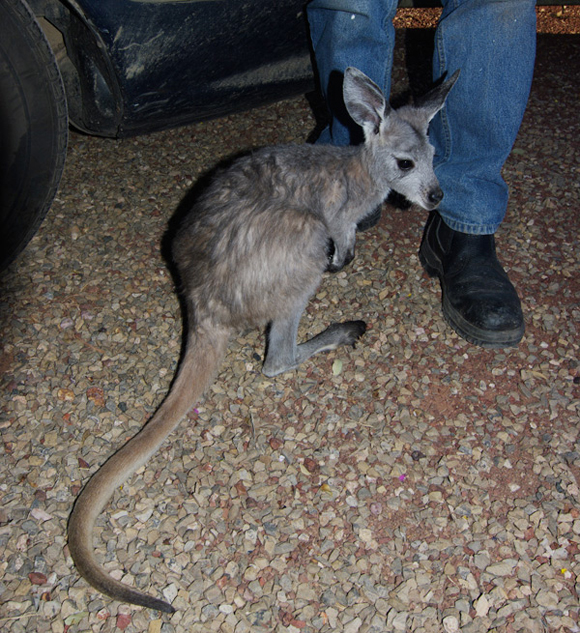 Bootnote
*Pom = Brit
**We suspect the little fella's mum may have been killed by the Japanese photographer we dubbed "Mad Max", who was also following the World Solar Challenge. His behaviour behind the wheel suggested he'd passed his driving test in Italy and had subsequently honed his skills on the Germany's Nurburgring.
Sponsored: Minds Mastering Machines - Call for papers now open