Modern Warfare 3 flogged on eBay for a grand
Get rich and try dying
Copies of Activision's forthcoming FPS Modern Warfare 3 have been selling on eBay for staggering prices, with one auction ending yesterday at $1725.
Earlier this week, Xbox versions of Call of Duty: Modern Warfare 3 were available to buy from Kmart after the US retailer accidentally put them on shelves early.
Many of those who grabbed one went home and started on the campaign mode. Those willing to wait until next Tuesday, though, showed their braincells haven't been damaged from perennial gunfights by offering their copies on eBay.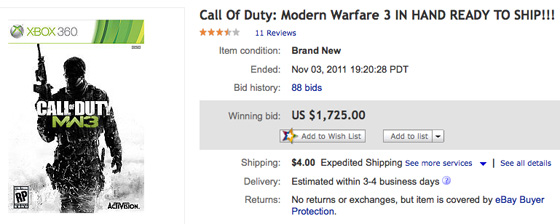 Last night, after 88 bids, one early possessor pocketed a whopping $1725 (£1078). It was immediately shipped out with priority mailing, so this wealthy buyer will no doubt be a popular figure this weekend.
There's plenty of code floating around online for much less than that now. However, we'd recommend you wait until Tuesday to get a copy. Unless you're that obsessive, you simply have to jump the gun.
Meanwhile, for a taste of things to come, a video featuring a controversial scene, of similar questionable taste as the "No Russian" scene in Modern Warfare 2, has been posted online.
All viral marketing nonsense, of course, but here's the spoiler for your innocent eyes nevertheless. If you'd prefer not to see a little child and her mother get blown to smithereens, though, look away, or don't click play. ®
Sponsored: Minds Mastering Machines - Call for papers now open