German website offers custom cow killing
Abattoir or field killed, sir?
A German web site is offering beef buyers a variety of options on how they would like their ruminant reduced to ribs.
The company (www.mycow.de) operates out of the northeastern German state of Mecklenburg-Western Pomerania and offers a variety of cattle breeds, including Galloway and Aberdeen Angus, which are raised organically. It also offers the choice between having your beef butchered in an abattoir, or while unsuspectingly munching its cud in the farmer's pasture.
"The slaughter on pasture requires no capture, separation or fixing of the cattle," the company says on its site. "They stay until the end in a familiar environment. Through the pasture to slaughter the animal creates less stress, which manifests itself in a high quality meat."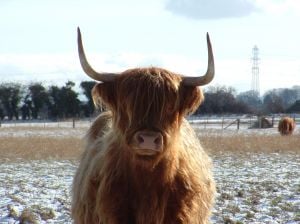 Are you sure you wouldn't prefer vegetarian tonight?
The jury is still out on the effects of stress on the taste of meat, but some maintain that the strain on cattle of being packed into a container, shipped to an abattoir (with a trip to a massive feedlot first for final fattening) and then being killed in an industrial manner makes beef less tasty, and also more difficult to preserve.
As an alternative, the helpful German company's representatives will wander out into the pasture, stun the unsuspecting bovine target with a quick shot to the head, and then cut its throat so that the animal bleeds out, before shipping it off to be butchered.
All this comes at a price however. A five kilo packet of pasture-killed beef will set you back around €75, excluding shipping, and customers can't choose which specific cow gets the chop. ®
Sponsored: Minds Mastering Machines - Call for papers now open