US Army orders more Judge Dredd smartgun ammo
Shoots-round-corners computer rifle gets another $24m
The US Army has assigned an extra $24m of funding to the futuristic XM-25, a high tech personal weapon which can hit and kill an enemy even if he is hiding behind a rock, in a trench or round a corner.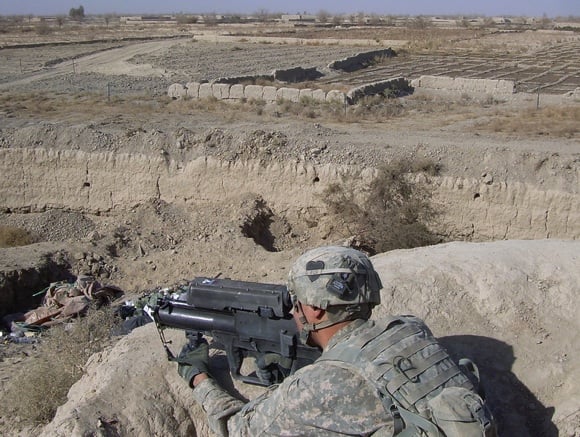 Just shoot him, Kowalski, stop waiting for him to hide first
The XM-25 can do this because it doesn't fire ordinary bullets but small 25mm-calibre exploding shells whose precision time fuses are set wirelessly by the gun's systems at the moment of firing. This, combined with the weapon's accurate laser rangefinder and computing gunsight, allows its user to make the shells explode above an enemy's head if he is behind a rock or a wall, showering him with deadly shrapnel despite his frontal hard cover. Likewise a target around a corner can be hit by making the shell explode in the right place.
Lead manufacturer ATK, building the XM-25 in partnership with other firms including Heckler & Koch and L-3, landed a $66m deal from the Army in April to move the weapon into production following successful field trials in Afghanistan using prototypes. Yesterday, ATK said it had been awarded a further $24m for "additional ammunition, hardware, test and analysis to support further user assessments of the XM-25".
We also learn that the XM-25, which has had many official names, is now known as the Individual Semi-Automatic Airburst System (ISAAS).
Apart from the normal airburst-frag rounds, various other types of ammo are contemplated for the XM-25. Programme officials have spoken in the past of shaped-charge armour piercing warheads, plastic or rubber riot projectiles, airbursting flash-crash stun bombs, door breachers and anti-personnel (shot or flechettes). There has even been speculation that a tiny fuel-air bunker buster, well suited to the gun's airburst capabilities, could be on the cards. This array of ammo types, combined with a selection system driven by a topical iPhone style voice assistant, would deliver a Judge Dredd style capability – hence our own moniker for the XM-25. (Sadly at the moment one must change ammo types by swapping magazines like any primitive.)
At the moment, with regular production not yet underway, every round of ammo for the XM-25 must be expensively custom made. This probably explains much of the need for the extra cash awarded yesterday, so as to allow more trials and tests to continue. ®
Sponsored: RAID: End of an era?