Americans' right to hang fake balls on trucks left dangling
Truck nuts case not seen as low-hanging fruit by court
Americans on the horns of a constitutional dilemma over their right to hang simulated, over-sized testicles from the back of their pickups will have to wait even longer for the issue to be decided.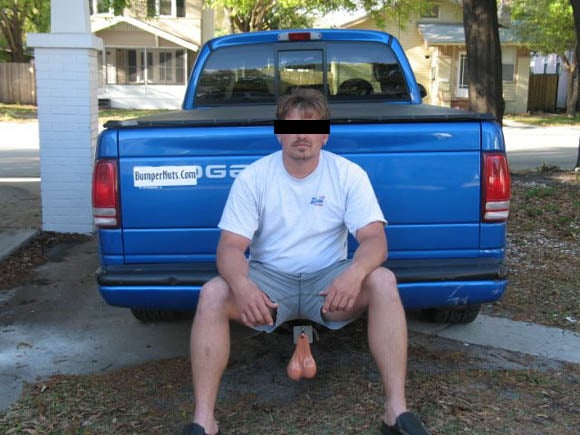 Virginia Tice, of Bonneau, South Carolina, was hit with a $445 ticket back in July for hanging a pair of the "truck nuts" off the back of her truck.
Local police chief Franco Fuda declared at the time the swinging simulated sweetmeats were "offensive" under the state's obscene bumper law.
However, Tice, 66, refused to take the ticket lying down and insisted that her bull balls should have their day in court.
The issue was quickly picked up by her compatriots in the lower portions of the Union as an issue of free speech they could relate to - rather than the usual US free-speech hot button issues such as flag burning or depictions of religious icons.
A hearing before a jury was originally scheduled for August, before being bounced back to September and then November. Now, however, Tice's testicular trial has been tucked back further, possibly into December.
Tice's attorney, Scott Bischoff told local news station ABC4 that the delay was at the court's request. He said that leaving the issue dangling was waste of both time and the small town's resources.
"It would seem very reasonable to say they have spent more money than it is worth at this point," he said.
Around 25 bucks would appear to be the price of a pair of plastic plums, according to this site - though a "bumpernuts hanger" is an additional $22.
Nuts of steel will set you back an additional $5, while those of you hankering for top of the line shiny balls of brass weighing in at 3lbs will have to spunk out $55. ®
Sponsored: Minds Mastering Machines - Call for papers now open