Hands on with the Motorola Xoom 2 10.1in Android tablet
And the 8.2in Xoom 2 Media Edition too
Practical
The back of both devices is home to the power and volume keys: rubber-covered buttons that sit flush with the metal-look plastic back panel. The notion is that you can trigger them without taking your hand off the back of the tablet, and it kind of works. But you'll need to educate yourself not to automatically reach for edge-mounted controls.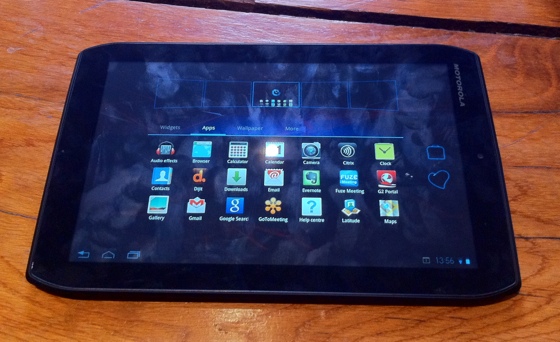 A water-repelling Gorilla Glass screen - but not one that guards against finger marks
Motorola was keen today to tout the tablets' Gorilla Glass screens with a new, hydrophobic coating, the better to deal with liquid spills. Alas this "splash guard" does nothing for finger grease, and the screens soon look messy. To be fair, that's a common fault with touchscreens, tablets and phones both.
Driving each Xoom 2 is a 1.2GHz dual-core Texas Instruments Omap 4430, and it gives the tablet's Android 3.2 Honeycomb UI an appropriately smooth, capable feel. Alas, no games were pre-loaded so I can't address the abilities of the 4430's graphics. Likewise, a lack of pre-loaded content meant the 10.1in tablet's "3D sound" capability will have to wait to be assessed until Reg Hardware gets its review sample in.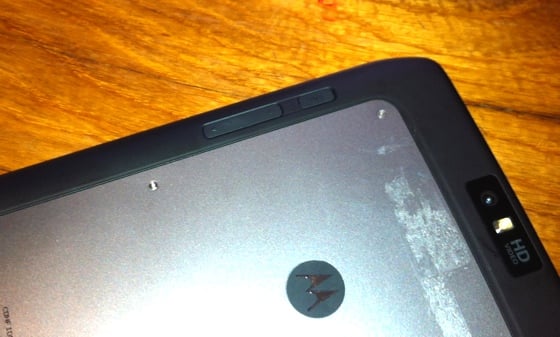 Volume and power keys are place round the back - which has a ready-to-grip rubberised border
Both tablets will come with Motorola's MotoCast app, which lets you browse a PC or a Mac back at base, and stream or download files. There's no word yet whether it'll work with Nas boxes.
If the screens quickly grease-up, the 1280 x 800 LCDs beneath are reasonably bright and crisp, with a good viewing angle. I still think Apple - and HP, for that matter - has it right with a 4:3 ratio display. It's perfect if you regularly flip your tablet between portrait and landscape orientation. But the Xoom 2's widescreen layout is a compromise - widescreen displays are cheaper - that you can live with, and some folk might even prefer if they favour landscape viewing.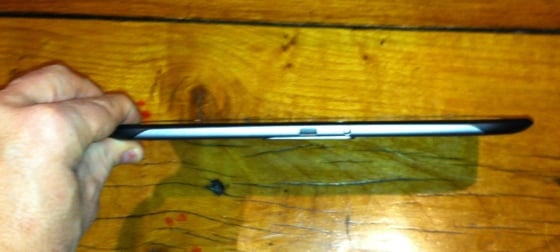 The bigger Xoom 2 is as thin as the iPad 2. The Media Edition is fractionally thicker
Android's advantages over iOS have been well detailed elsewhere, but from a hardware perspective neither Xoom 2 feels as polished as the iPad. Or Samsung's latest Galaxy Tabs. But Motorola has a product capable of competing with the likes of Acer and Asus, and certainly RIM's BlackBerry PlayBook.
The Xoom 2 and Xoom 2 Media Edition will be out in a couple of weeks' time. Motorola today couldn't say when Ice Cream Sandwich updates will appear, but said that Android 4.0 will be rolled out for both - "it's a given".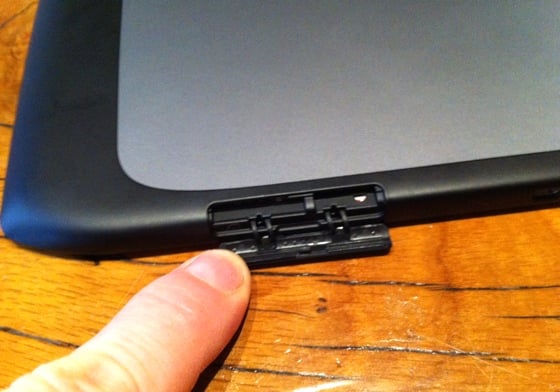 No 3G or storage expansion? How come there are micro SD and Sim slots, Moto?
Motorola may be unsure about who will want the new Xooms, how much storage they should offer, or whether they should incorporate 3G, but of the migration to ICS it is certain. ®
Sponsored: Minds Mastering Machines - Call for papers now open