Hands on with the Motorola Xoom 2 10.1in Android tablet
And the 8.2in Xoom 2 Media Edition too
First Look Motorola will be selling its new Xoom 2 tablets - a 10.1in model and the 8.2in "Media Edition", both unveiled today - primarily through Dixons' stores and Carphone Warehouse. Those are both consumer-oriented outlets, so why will so many business apps - Citrix, GoToMeeting and QuickOffice, for instance - be pre-loaded onto the tablets?
I can't wait to be a fly on the wall watching some CW operative trying to persuade a punter to part with their hard-earned for Xoom 2 by outlining the benefits of FuzeMeeting...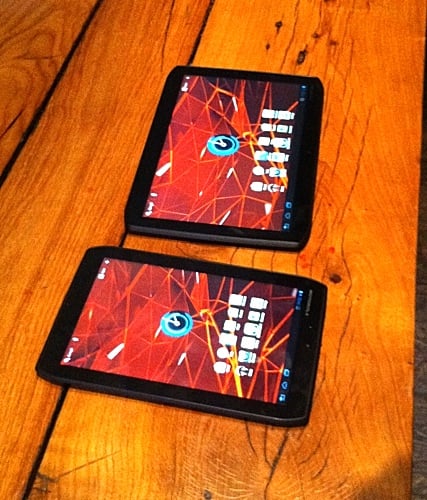 A tale of two tablets
Are the new Xooms for business, or are they for consumers? The easy answer - and the one given by Motorola - is that they are aimed at both, but that leaves the company looking indecisive, unsure which way to leap and not convinced that either category is the right one to go for.
Uncertainty abounds. "Will the devices have 3G?" I ask. The response: we're just launching Wi-Fi only tablets today. Yet the models I played with this afternoon had micro Sim card slots. Whether these are indicative that a 3G model is in the works - there was a 3G Xoom, after all - Motorola couldn't or wouldn't say.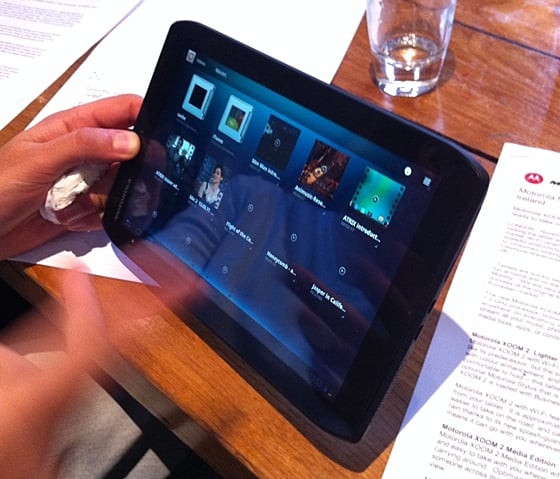 The Media Edition
Ditto whether the 16GB of Flash storage built into each Xoom 2 is expandable. No, I was told. So why is there a Micro SD slot in the ten-incher? How about bigger Flash drives? We've nothing to say today, came the reply.
What Motorola clearly has decided is not to risk the wrath of Apple. Gone are the Xoom's rounded corners, replaced by gently angled ends reminiscent of the way Acer has styled its Iconia tablets. In fact, these new Xooms look a lot like the Acer products - perhaps the Taiwanese company will sue instead. The Xoom's edges aren't rounded either, but they are covered with a rubbery plastic for a better grip.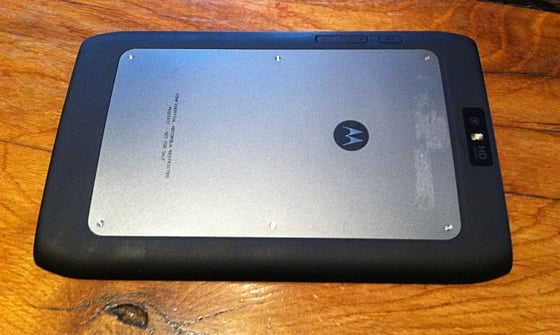 The 8.2in tablet is designed to be primarily used in portrait mode
That's aided by the tablets' thickness: fractionally under 9mm in each case, so better than the Xoom but no thinner than the iPad.
Do punters prefer to use tablets in landscape or portrait orientation? Unsure, Motorola again opts to deliver both. Of course Android can auto-rotate, but the Xoom 2 is clearly designed to held in landscape mode: the webcam is along the longer side, ditto the rear-facing 5Mp stills-and-video cam. The tablet's mini HDMI and micro USB ports are built into the long edge, opposite the cameras.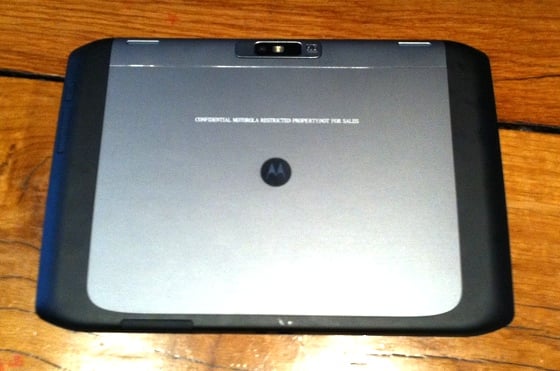 But the 10.1in model is for landscape lovers
With the Media Edition, those ports are on the narrow edge, so the 8.2in tablet docks vertically - Motorola has some boxy docking cradles for both tablets. The ME's cameras are likewise aligned for a tablet held in portrait orientation.
COMMENTS
Asus Transformer is King Gadget
But they gave the iPad 2 the tablet gong - they think it is a better tablet than the Transformer, but that the Transformer is the better gadget.
http://www.stuff.tv/news/events/news-nugget/stuff-gadget-awards-2011-%E2%80%93-asus-eee-pad-transformer-takes-gadget-of-the-year
http://www.stuff.tv/news/events/news-nugget/stuff-gadget-awards-2011-%E2%80%93-ipad-2-takes-tablet-of-the-year-award
Make of that what you will. Personally, I think they are just trying to appease everyone :)
Crap
So bascially it's similar to the Galaxy tab 10.1 - but looks crapper.
WTF is the point if it doesn't have Micro SD card slot. I'll be sticking to my original xoom rather than this crap.
You've clearly never worked for a council, an LEA or the DfT. Getting money out of a council is like blood from a stone. I've heard a few stories of councillor's evaluating ipads, none of state teachers being provided with ipads, none of traffic observers being given ipads.
it all depends..
iOS is by far the easieast to use. Cats and toddlers can use it. It's fluid, got a better selection of better software Android does not yet have (such as pro music extensions, quick video editing tools, and of course, games).
The ease of use is of course due to you can't really configure it for your taste, apart from wallpapers. Or can't really access the filesystem.
The other part is partly due to the specs (which is currently king in tabletland) and partly there is one single ipad (ok two, one slow and one fast).
As an appliance then, it's the easier choice. But as a gadget, it's too constrictive. Depending on your geek scale, this may bother you or it may not.
Me? I don't like the apple way of doing things. I however am really looking forward to the Asus Transformer 2, with Tegra 3 and ICS (Android 4.x). And I also want the wacom keyboard, so I can use it as a portable and cheap Cintiq. Now THAT sounds real tasty. All the ports I want (can even use regular USB external hard drives), keyboard I can leave at home or tote around as a cover and usable text input device..
Xoom 2 just feels like Xoom 1.1 .
Corners
The previous Xoom had round corners. Maybe they decided to go for Nokia-style corners instead of A*&!"-style as there would be less likelihood of getting the thing impounded.