Maggie Philbin on tech, teens and cardigan fear
Tomorrow's World icon was first to say 'I'm on a train'
Beware geeks wearing cardigans
"It's hard to believe that the old images of people who work in tech still persist ... although 'geek' is becoming the new good, girls don't want to be part of that," Philbin said. "When you go to schools after TeenTech it's shattering to hear these girls say I didn't think women would want to do jobs like that."
Philbin reckons she got lucky with Tomorrow's World because it gave her what young girls miss: the opportunity to meet first-hand the people and experience how diverse science and technology can be.
"I was lucky to meet so may inspiring people at the sharp end of their respective professions; you want to find a way to share that with young women," she said.
Role models for women do exist of course, especially when it comes to computing. From history, we can cite the six pioneering women mathematicians employed by the US government during WWII to program the first general-purpose computer that ran at "electronic speed", called Electrical Numerical Integrator And Computer (ENIAC) and designed to calculate missile trajectories. Men in uniform ran the show and the women brought into this male-dominated hierarchy were nicknamed dismissively the "computers" by the brass. The last of the six ENIAC women, Jean Bartik, passed away in May.
More recently there's been Turing award winner professor Barbara Liskov. The first woman in the US to receive a PhD from a computer science department (the University of Stanford in 1968) her work on the CLU and Argus languages formed the basis of Ada, C++, Java and C#.
Coming bang up to do-date there's Google's vice president of location and local Marissa Mayer and open sourcer Danese Cooper from the tech side. From the business end of operations there's IBM's newly named president and chief executive Virginia M. Rometty, former eBay CEO - now leading Hewlett-Packard - Meg Whitman, ex-Autodesk and Yahoo! CEO Carol Bartz and Oracle's chief financial officer and president Safra Katz among many more.
Maybe the real problem is these stories aren't communicated to those outside of tech; or maybe it's because they are seen as irrelevant because they come from the WWII era or America and not from today's Blighty.
Either way, their stories aren't breaking into mainstream where they are needed to help challenge those out-dated notions held about people working in tech. So, TeenTech is putting real technologists in front of teens.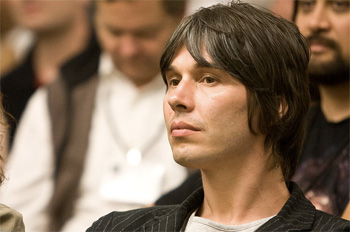 Brian Cox: the face of teen science inspiration?
"That's the whole thing around TeenTech," Philbin says, "trying to correct the perception and show them the cool opportunities ... [that] there are other women and to show that the blokes can be fun and who you'd want to go to the pub with."
Also, it's important to show how working in technology is a creative pursuit and that you could be effecting a change. "Those words like 'teamwork' and 'creativity' and 'making a difference' are important because that's the thing many young girls say they want to do. If anything makes a difference technology does - it's got to be put into that kind of context," Philbin says.
The story of the ENIAC women would surely count as an example of teamwork at it's best.
Arguably, the closest we have to a role model today is Professor Brian Cox, the mopsy haired physicist who works on the CERN atom-smasher project and who also fronted the BBC's Wonders of the Solar System. Cox is credited with making physics cool at school leading to a surge in applicants for physics and astronomy courses at university. Cox's wife, TV presenter Gia Milinovich, will appear with Philbin at the BCSWomen event.
If there's a side-effect to the Cox factor, it's that we could end up with a generation of physicists and astronomers - leaving other disciplines ignored.
One way of channelling teenagers is to have them engage with the technologies they already know and use, like smart phones.
"Young teenagers don't make the connection between the technology they are using and the fact they could be creating it," Philbin said. "We have these kids we have turned into consumers of the latest technology, but we are not giving them the inspiration or the tools to develop it."
It's the emphasis on creating new consumers rather than turning kids into makers of technology Philbin calls "the black side" of the industry.
"The darker side is the whole update business, where you buy an iPad and within 12 months the iPad 2 has come out, and then guess what..." she trails off.
"That throw-away attitude to technology winds me up because it's so short sighed in terms of resources and the environment ... I resist the temptation to upgrade my phone every year - that is the black side of tech. I had a TV in my house that was 20 years old and it was my dad who said 'get rid of that TV' - but it still worked perfectly. Now I have my slick black screen, but it really hurt getting rid of my TV."
Philbin is critical of the UK's national curriculum for not playing its part in connecting our teens to tech and turning them from a generation of consumers into makers. She is positive about a potential change that could lead to software programming being taught at GCSE and A-level grade, shifting away from simple "computer literacy."
"That's just the start," Philbin says.
The Simon Cowell factor
"If you have the right skills, that idea doesn't have to remain on a Post-It note, that idea can make you a fortune but you have to have the right skills to recognize this isn't going to work or you have the skills to deliver it, or to know who is the person to go to. We just need to do more because the kids have such very, very deep rooted interests in that whole area and by the time they come to be 14 or 15 they are being switched off, and I think it's a shame."
Practical skills and role models can help the vacuum currently being filled by Simon Cowell, with his brand of Atlantic-hopping TV programs like X-Factor and Idol. "You'd be appalled if you go into some schools, and the kids of dreaming of being famous and that's their going to be their get out of jail card," Philbin says.
This contrasts with like India and China, which are fast closing the gap on the west in terms of raw student numbers and of pushing the envelope on innovation in everything from chips to space flight.
"There [India and China] you have a culture where being a engineer and technologist is something you want to aim at. We have got to get much sharper."
Sponsored: Minds Mastering Machines - Call for papers now open