Light gatherer
On to pictures: the back of the phone has a bulge on it where the camera lens sits. Of course, it would have been sleeker if the back were flat, but you can't have that and a camera of this resolution and aperture. At f/2.2 this lens can let in a lot of light and the results are very good. Unlike the iPhone, with its simplistic interface, here you can specify a scene setting – portrait, beach, backlight, sports and the like.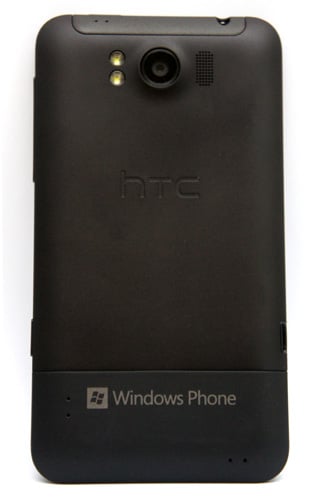 8Mp shooter with 720p video capture on-board
And there are effects like Panorama, which is very neat. Take a picture, pan to the right, stop and pan again. Nothing unusual about that but the camera cleverly uses the phone's accelerometer to draw a horizontal line across the image, so you can keep the horizon level. You can also adjust the ISO, white balance and turn face detection on or off.
The handset has auto-fix image tweaking features to jazz up the pics you've taken too, which is OK rather than outstanding. Video capture is respectable, however, you can't zoom while you're recording. Yet as a smartphone snapper, the Titan delivers an enjoyable photographic experience, aided by that wide aperture and range of exposure options.
Sample Shots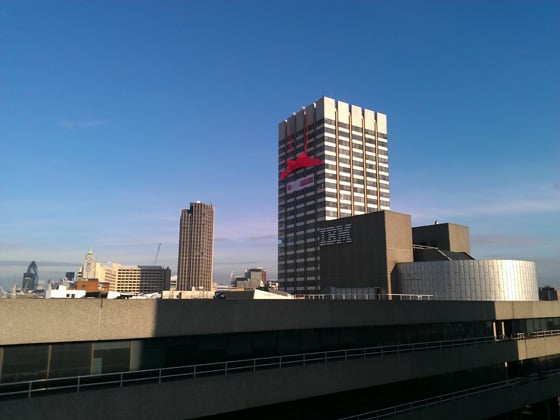 Click for a full-resolution image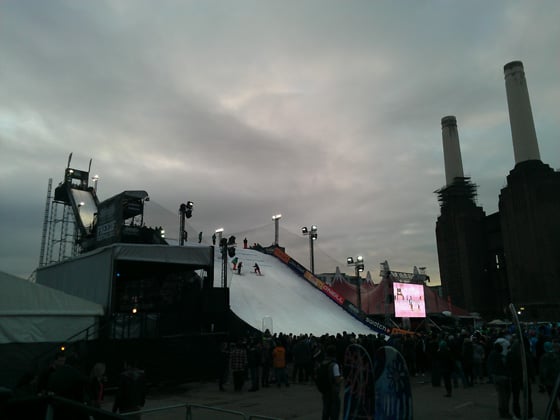 Click for a full-resolution image
The processor speed is pretty nifty too – it's a Qualcomm 1.5GHz model – single-core, not a dual-core CPU. Along with no expandable memory, the single core CPU is another spec prerequisite from Microsoft. Support for dual-core is in the works, but the software isn't there yet. For all these restrictions, you won't notice slowdown and the Titan won't leave you dawdling. The 16GB storage, while not generous, will be enough for most unless you plan to keep a lot of movies on-board.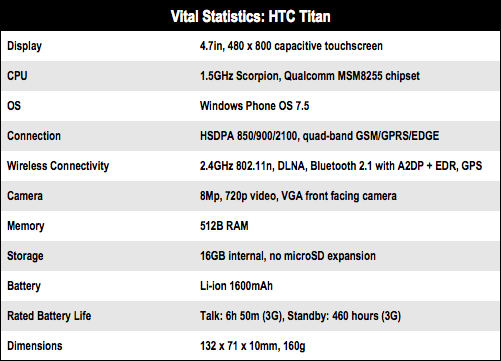 COMMENTS
Only 75%?
There's very few negative comments in this review. So how does it score so much less than the iPhone 4S? Is the screen resolution worth 20%?
Personally, I prefer the Titan hardware over most other phones at the moment but I still think I'm going to end up with the Nokia Lumia 800, its just too damn pretty.
HTC/WDS Repair Centre
I took ownership of the Titan last week. It was a 'gift' from HTC for a 10 month clusterfuck in an attempt to repair an HD7. They took receipt of the first device in December, returned it three times un-repaired, sent two replacement devices with only 8GB of storage, not with the 16GB I sent them and on one occasion sent me two bottles of shampoo instead of a phone.
Only when I did some digging did I find out that the customer services company is actually called WDS, based in Poole. The repair centre however is HTC's.
In the end, I purchased some shares in HTC and started writing to the CEO based in Taiwan, as a shareholder (it seems to hold more weight than being 'just a customer').
This focused WDS' minds considerably and I was then in personal conversation with the WDS/HTC account manager via his mobile. As an agreement to keep the matter out of court for compensation of my wasted time (I had documented EVERYTHING, even phone calls to the minute), it was agreed that I would be sent a brand new Titan upon its release, plus a lot of accessories.
Keep on at them - you'll get there.
Oh, and the Titan is a great phone.
Simples. We didn't *all* laugh at the streak, many of us lusted after it. Nearly grabbed one a couple of weeks ago when they dropped to a more appealing price.
Why does the iphone never lose points?
The negative points were lack of external storage and low resolution. The iphone used to max out at 16 and no one complained. And for all its retina loveliness the iphone still has a tiny screen, hardly worth viewing media on it at all.
@ dotslash
I think most us of know that HTC's new contract service & repair provider leaves something to be desired, but that said back in August they turned around my partner's Desire (broken screen after she dropped it onto a stone kitchen floor) in eight days and the cost was reasonable too.
She was a bit wary of sending it off after reading the Facebook page complaining about HTC repairs but as she said, none of the complaints on Facebook gave anything like a proper detailed breakdown of what exactly the problem was to start with - rather like your post.
I'm on my second HTC (Hero / Desire HD), her indoors is on her first (Desire) and after nearly five years combined use they have been faultless, the Desire/floor incident notwithstanding.