Nokia dips toe in free Wi-Fi waters, again
Londoners to get free network off the Finns
Nokia is paying for free Wi-Fi access at 26 sites across London, with a view to rolling out a capital-wide service next year in conjunction with Spectrum Interactive.
The access is truly free, and not restricted to Nokia handsets. Users do not need to sign up for an account, or identify themselves, but they will be required to click though a T&C screen covering the usual niceties. Until the end of 2011 there will be 26 sites, and if all goes well the service will roll out across the capital.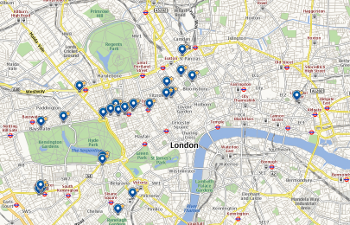 There's a bigger map, if you click on this one
Nokia says it wants to gather information about how people will use free Wi-Fi before committing to giving it away to the whole city, but also reckons offloading data from the mobile operators is a good way to encourage greater smartphone use, and use of Nokia's online services.
Principal among those being pushed today is Nokia Maps, which obviously shows the location of participating hotspots in case one can't spot the traditional telephone boxes bearing the Spectrum Interactive logo, which house the access points.
Nokia isn't the first to roll out free Wi-Fi in London, and it is not even the first time Nokia has done it, having sponsored The Cloud's free offering which covered the central Square Mile back in 2007. The Cloud is the usual partner in such projects, as it has such a pervasive network, but this time around Nokia has instead signed a deal with Spectrum Interactive – a company better known for its airport kiosks which provide bored holidaymakers with a billed-by-the-minute internet fix.
Nokia could have asked The Cloud for some usage data, but has instead decided to compile its own. Quite what that means for the future of London's communication is open to debate, but if nothing else it does mean some free internet access while Christmas shopping. ®
Sponsored: Learn how to transform your data into a strategic asset for your business by using the cloud to accelerate innovation with NetApp