Chip sales shrink a bit in September
Japan recovering, Thailand an unknown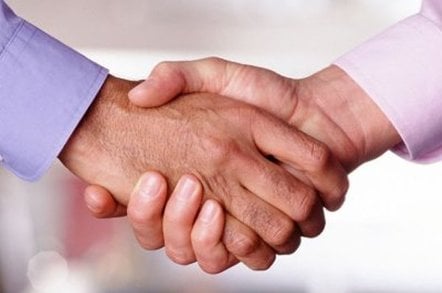 The semiconductor supply chain is bracing for impacts from the flooding in Thailand, but sales were good through the end of September, according to statistics compiled by the Semiconductor Industry Association. Global semiconductor sales hit $25.8bn, up 2.7 per cent sequentially from August. That's the positive spin. The negative spin is that on a year-on-year basis, the SIA reckons that chip sales slipped 1.7 per cent.
The SIA reports its data monthly, but it is a bit funky in that each month's data is actually a rolling three-month average. The idea is to smooth out the choppiness of the data to get a better read on the trends. Here's what the trend data looks like over the past 15 years: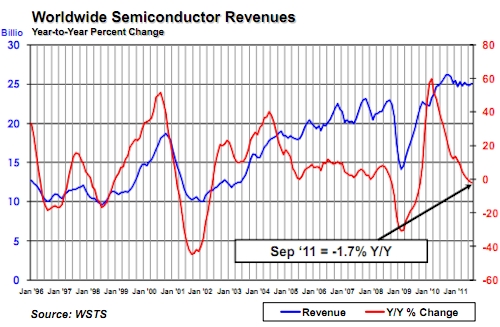 The Dot-Com Bubble Recession and the Great Recession stick out like two sore thumbs, don't they? Chip revenues have stabilized and are relatively flat – as flat as they have ever been, if you look at the data. The question is: Will there be a fourth quarter bump and a spike in growth as was traditional in the period from 2003 through 2008 between the two recessions? SIA is not going to polish up its crystal ball until later this month and prognosticate about the fourth quarter, so we'll just have to make do with September data for now.
In the quarter, chip sales were propped up significantly by the Asia/Pacific region where an increasing amount of consumer and commercial equipment using chips is manufactured. In the Americas region, chip revenues declined by 3.7 per cent to $4.61bn, and in Europe sales fell by 3.1 per cent to $3.13bn. In Japan, despite a sequential growth of 4.2 per cent, which is good news in the wake of the earthquake and tsunami back in March, sales were still down 9.3 per cent year-on-year to $3.8bn. (On a quarterly basis, semiconductor sales in Japan averaged for the third calendar quarter were 13.7 per cent higher than for the second quarter. So there has been good improvement.) Companies in the Asia/Pacific region acquired $14.2bn in chips in September, up only 1.6 per cent but almost entirely compensating for the losses in the other regions.
"September's global sales demonstrate an optimistic close to the third quarter," said Brian Toohey, president of the SIA, in a statement accompanying the figures. "While global economic uncertainty creates limited visibility for the remainder of the year, recent positive indicators and developments in the U.S. and Europe are encouraging."
SIA said that chip sales for cars as well as for smartphones, tablets, and e-readers contributed along with the recovery in Japan to help push the market.
What SIA doesn't discuss in its report is how much of the declines in the Americas and Europe are due to the constant movement of manufacturing operations to China, Singapore, Thailand, Vietnam, and other countries in the Asian region. ®
Sponsored: Minds Mastering Machines - Call for papers now open