Activision banned me from Call of Duty gig, says exotic performer
'She appears in WHAT kind of films?!?!'
Dutch adult entertainment star and - apparently - avid gamer Kim Holland was uninvited from a VIP Call of Duty bash after Activision discovered what she does for a living.
The erotic artiste was overjoyed at her emailed invitation to a party celebrating the launch of Call of Duty: Modern Warfare 3. Who wouldn't be? Guests who attend this one are to be given a new Xbox 360 console and copy of the game. Schweet.
But, days before the event, Holland received a second email from the gig organisers informing her she was no longer welcome. Said the message: Activision doesn't want representatives of the adult entertainment industry present, Eigenwereld reports.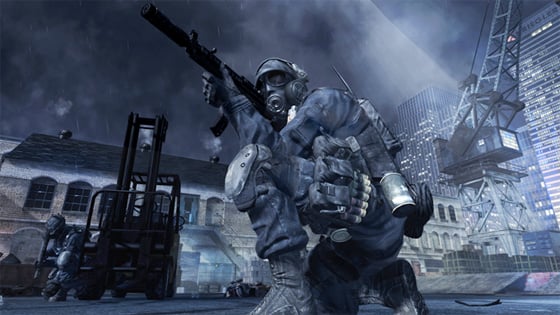 Shoot your load
As a result, Holland was frothing - oo err - and immediately blogged (NSFW) to vent her spleen.
"People murdering people is neat," she said "but lovemakers are dirty?" she demanded of the game's publisher.
Clearly, Activision is so confident the game will blow away the box office, it can afford to keep porn stars from blowing the gaff. ®
COMMENTS
"People murdering people is neat," she said "but lovemakers are dirty?"
Ayup. Welcome to the US.
"In the army they give you a medal for spraying napalm on people. Civilian life, you go to jail for giving someone an orgasm." --George Carlin
Maybe...
they think their product will get used in, e.g. media productions. I mean, the old plumber come to fix the drippy tap storyline is wearing a bit thin. Maybe it goes like this...
*DING DONG*
(Door opens on geek guy with tool bag)
"Hi, I've come to fix your Xbox... you, er, maybe want to show me it."
"Oh, yeah. Hi, come in. I was just giving it a good thrashing when the ring went all red and glowing, and now the box has gone down and I can't get it up again..."
"Let's get that top off shall we?"
*Boom chikka wa wa boom boom*
I wonder if she's ever stuck her finger in a dyke?
Apocalypse Now!
Similarly, as Colonel Kurtz once said:
'We train young men to drop fire on people. But their commanders won't allow them to write "fuck" on their airplanes because it's obscene!'
Not surprised...its EA
They have never missed a chance to make a poor decision.
I'm sure the majority of gamers would agree, its none of their business what she does on her own time.