Server, disc glitches mar Battlefield 3 launch
War goes bang
Battlefield 3 shot onto shelves today and multiplayer functionality was immediately slaughtered by an army of problems.
The keenly anticipated EA title was picked up by eager fans last night, who returned home to find the EA Online servers down. Many complaints on the official Battlelog forums prompted developer Dice to Tweet that all that issues were being dealt with.
There have also been reported instances where copies were shipped with dud online pass codes - a necessity for any user to access multiplayer - and, in some cases, with no single-player campaign disc.
A statement on EA's website says: "We are aware of the invalid code issue and we apologise for the inconvenience.
"Since certain retailers are affected by this issue, please check with the retailer where you purchased Battlefield 3 in order to receive a replacement code."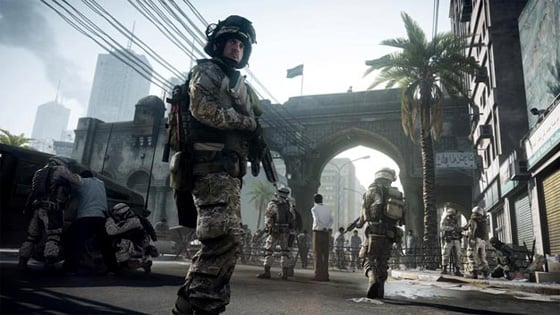 With next month's release of a new Call of Duty looking to break sales records for a consecutive year, EA will have to make sure guns are firing on all fronts here. The safety's fully off now, though, and EA has popped the first cap.
Activision, your move...
We'll have a full review of Battlefield 3 for you next week. In the meantime, if you've already got the game, we've been assured its all working fine now, or should be soon. Over and out. ®
COMMENTS
hmm
Well that's saved me the money on buying the game at all, I'm not taking part in encouraging this kind of money grabbing. The creators of everything else in the world, books, cars, whatever don't have any income from secondhand goods, but games are "special" and they claim the money is for future development, not just improving the company's profits for the owners.
Terry Pratchett keeps second hand book shops going, yet you never hear him complain ;)
It's the same lie as the train operators. 15 years of travelling on trains where each fare hike was "to help improve the network" yet nothing about train travel has improved in that time, except the operators profit margins.
Just imagine the problems if thousands of the people who pre-loaded the game hadn't got the game 4 days before the EU and UK release by making a simple change to their internet settings.
One suspects EA deliberately made circumventing the relase date check trival to reduce the load on release day. If that is the case, then the game has still become a victim of its own success.
gamecity 6 , nottingham
Anyone in the nottingham vicinity can go to gamecity6 and try out this game in a travelling EA game trailer/pod at the market square. I didn't as there are far more indie titles elsewhere that I personally prefer ... fez dez rez, for example , rocks my boat rather than another paint by numbers FPS
console?
BF isnt made for consoles. get it on pc where there are 40 more players.
anyway, i had issues on thursday night where activation took hours. bt then i got in via a korean proxy.
a few bugs like CTD and squad system being terrible but hopefully it will be fixed.
to the guys above: bad company 1 & 2 arent proper battlefield games, they are cut down console ports.
i still think they are going the wrong way - 4 man squads are rubbish and comms are poor too. but the main problems are the scummy snipers and lonewolves, who ruin the game. if you dont want to play teamwork fuck off back to COD.
problems seen in the Beta....
Whole raft of problems were seen in the beta, and guess what, they're in the finished product. Glad not have bought this one, the beta was enough......