Boeing 787 Dreamliner makes first commercial flight
Airliner makes much-delayed safe landing
The first commercial flight of Boeing's 787 Dreamliner passenger jet has touched down safely and on time at Hong Kong, a little over three years after it was due to arrive.
The flight from Narita Airport, Tokyo only took the passengers four and a half hours, but Boeing had originally planned to supply All Nippon Airways (ANA) with the aircraft in 2008. However, a series of what turned out to be seven delays hit the project, including a small fire on-board, and commercial deliveries have only just begun.
Nevertheless, the 240 passengers on board partied like it was 2008, with a sake send-off from Tokyo and some passengers paying $32,000 for a business class seat in a charity auction for Conservation International. "It's silly, but it's a little piece of history" Stephanie Wood of Davie, Florida, told the Associated Press. "New cars come out all the time, but how often do new planes come out?"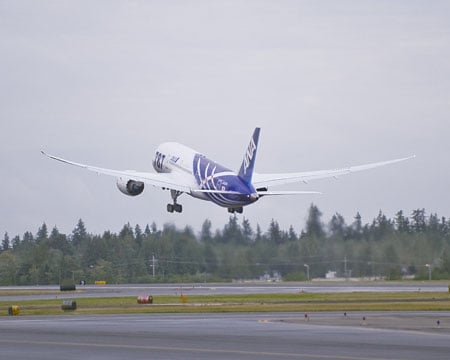 Three years late, but right on time.
The 787 uses carbon fiber and other composite materials to cut the weight of the craft, has more flexible wings, and uses efficient Rolls-Royce Trent 1000 engines to cut fuel consumption by up to 20 per cent. The plane can be configured for up to 250 passengers and has a range of 8,200 nautical miles and a cruising speed of Mach 0.85. According to SeatGuru, ANA has the seat widths set at 21 inches in business class and 16.5 inches for we plebes.
The new, stronger, materials allow for a larger cabin, windows that are 30 per cent larger than those found on a standard jet, and the traditional flimsy blinds have been replaced with "auto-dimming" electro-chromatic shades. The overhead luggage compartments are also 30 per cent larger – big enough for four people's standard carryon luggage, or the fluffy pillow, travel bag, roll-on suitcase, laptop bag and cuddly toy that some people seem to try to sneak on these days.
Boeing is also making much of passenger comfort on the new aircraft. The ambient pressure during flight is the equivalent of an altitude of 6,000 feet, rather than the more common 8,000 feet, and the air systems duct directly from outside the aircraft, rather than coming via the engine ports.
"ANA is proud to be the world's first airline to fly the 787 Dreamliner," said president of ANA, Shinichiro Ito, said in a statement.
"This revolutionary new aircraft will transform air travel for passengers and help ANA in its strategic goal of becoming Asia's number one airline."
So far the US aircraft manufacturer has 821 of the planes on order, and a lot of impatient customers. Virgin is seeking reparations for its delayed delivery - something that could prove very pricey if Boeing can't ramp up production quickly - and Qantas cancelled a $3bn bid for 15 aircraft. ANA has two 787s, with 53 on order, and expects to save $130 million a year in fuel costs when the fleet is finally up and running. ®
Sponsored: Minds Mastering Machines - Call for papers now open