Jurassic Park Ultimate Trilogy Blu-ray disc set
Relics on display
Documentary evidence
Of particular interest to fans of the series will be the hours of extras provided, the highlight of which is an all-new six-part talking-head documentary. Clocking in at around two hours, Return to Jurassic Park offers an encyclopaedic insight into the productions, and includes copious archival footage. I found it genuinely fascinating.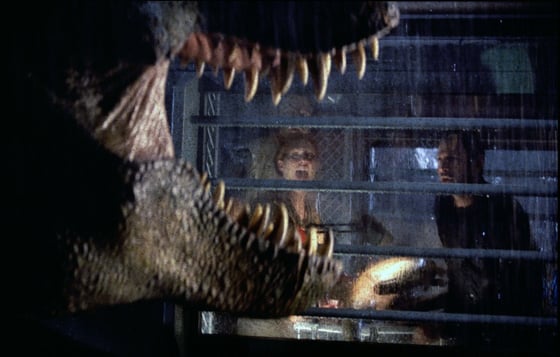 Happy meal, anyone?
The remaining supplementals have all appeared elsewhere, so if you already own Jurassic Park DVDs you may well get the feeling of déjà vu. There are Before and After sequences that deconstruct the CGI effects, as well as assorted animatics.
There's also a tour of Stan Winston's studio plus production archives to scour through (storyboards, models, concept drawings etc). Unlike the recent Star Wars Blu-ray disc set release, there's no sense of padding. Once bought, you really can retire any previous SD editions you may own.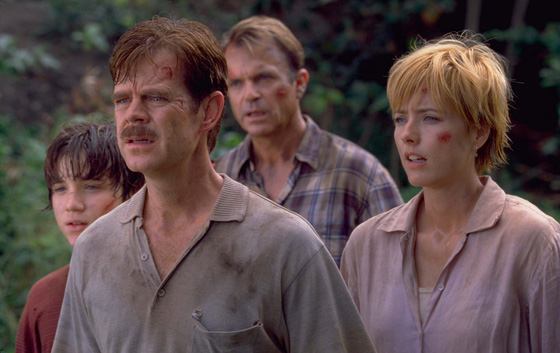 "Oh my, it's been six hours and we're not even at the out-takes yet"
Verdict

Hot on the heels of Star Wars, this is another modern classic to tick off the Blu-ray bucket list, although listed at £50 it's not exactly a bargain, so shop around. With a solid selection of extras, wonderfully remastered 7.1 sound and hi-def dinosaurs, the Jurassic Park Ultimate Trilogy is an adventure ride worth taking. 
Now bring on Jaws, ET and the original Indiana Jones trilogy and we'll be sorted. ®
More AV Reviews…

Akira remastered
Blu-ray disc set
Star Wars:
The Complete Saga
Blu-ray disc set
Sony
VPL-HW30ES
HD projector
The Lord of the Rings Trilogy
Extended Edition
Blu-ray disc set
Tron: Legacy
3D Blu-ray disc set
Sponsored: Minds Mastering Machines - Call for papers now open

Jurassic Park Ultimate Trilogy Blu-ray disc set
Yet another classic adventure series gets the Blu-ray spit and polish treatment.