Browsing history
Currently, Microsoft's Marketplace is still lagging well behind Apple's App Store and the Android Market and shows no real sign of taking off. It's getting better though. More metadata is now shown when you search for apps, like the provider, price and user star rating. You can search through applications, music and games separately now – rather than seeing results all lumped together – and there's also support for Podcasts which you can download using Microsoft's Zune syncing software.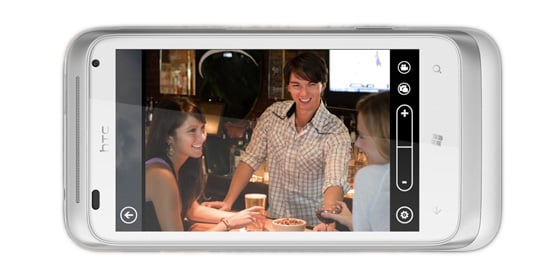 The handset also offers 720p video recording
Explorer 9 is the default browser that's bolstered by hardware acceleration, but doesn't too stretched as there's still no support for Flash so you can't watch BBC iPlayer. HTC has its own YouTube app offering in its Hub though. The browser is generally fairly slick in use, rendering pages well for the most part but if you don't like it, you're pretty much stuck with it, since there are no alternatives such as Opera available yet from the Marketplace.
The Radar's classy aluminium shell measures a hefty 121 x 62 x 11mm yet movies look great on its large screen and you can stream films, music and pics to a networked TV using DLNA and HTC's handy Connected Media function. The HTC Watch download service is also on board, offering films to buy or rent.
The music player includes SRS Surround Sound music enhancement, which gives the impression of broadening the sound stage and the supplied headphones are unexpectedly good. However, the 8GB of memory on-board seems a little light, especially since there's no option to expand it with a microSD card and this does rather affect its overall rating.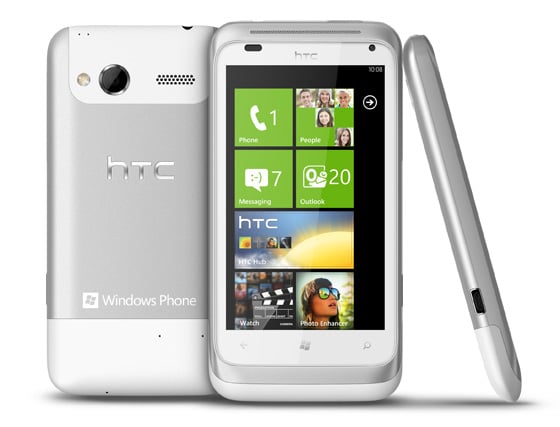 A step in the right direction, but the platform needs more apps
Call quality is fine, with the on-board speaker delivering voices with a well rounded and far from tinny tone. The 1520mAh battery is fine too, if unremarkable, delivering a little over a day's worth of fairly heavy use.
Verdict
Windows 7.5 Mango certainly offers a lot of useful improvements on its predecessor but it's no game changer. It remains to be seen if developers will embrace it and begin populating the Marketplace in the kind of numbers it will need to compete with Apple and Android. That said, the HTC Radar is a perfectly fine, if unspectacular vehicle for it – more pocket-friendly than the HTC Titan, and with a solid list of features. ®
More Smartphone Reviews

Apple
iPhone 4S
Sony Ericsson
Xperia Arc
Ten… Androids
to outshine
the iPhone 4S
RIM
BlackBerry
Torch 9810
HTC
Sensation

HTC Radar WinPho 7.5 smartphone
One of the first smart phones to get the Windows Phone 7.5 Mango OS also includes a reassuringly solid aluminium case and 5Mp camera.
COMMENTS
daft storage decision
The asinine decision to provide so little storage while denying memory card expansion rightly cost this device a slew of customers. Seeing as most smartphones today need to be tethered to the power grid just about every day, it appears deranged to force customers into the cloud for their media files, too - wasting expensive bandwidth and precious mAhs on 3G. Not to mention potential customers living in areas with patchy wireless coverage.
For a phone that is supposed to increase WP7's market penetration, MS's business decisions remain rather unfathomable.
if by "greeted with cautious optimism" you mean:
"eeeugh, does it bluescreen?"
"eeeugh what a bunch of loosers, they don't have a fully populated app store yet"
"eeeugh what an unpopular choice; less than 30% market share? I don't want to know"
"eeeugh blah, blah, source code, Micro$oft, blah blah"
I'm not in the market for a phone, so I've no particular axe to grind; but it seems that if it were any other player coming to the market they'd be welcomed for introducing some competition....
The most ironic thing is the mobile o/s which most like the old XP experience of registry settings, dodgy drivers, programs that could hang the o/s, the occasional need for a reboot isn't the windows one! Yes, I'm sure *your* particular droid behaves impeccably...
Oh, and if we're going to take marks off for lack of memory card slot... lets do it universally :)
Multitasking
Being able to show a list of apps currently in a suspended state in the background isn't multitasking. It's app switching. It might ease flitting between various apps but it's not the same at all as multitasking which would imply multiple applications running at the same time with preemptive, or cooperative multitasking.
Instead WinPho 7.5 has things called background agents which are for running stuff in the background which might be regarded as lightweight non-interactive asynchronous job, usually scheduled, but nothing comparable to true multi tasking. It would poll or do something in the background and notify the foreground to update a tile or the app its associated with. It's analog in Android might be a service class which is there for a similar purpose.
Gordon 10 tell me if you think so after reading this
Multitasking is pretty well understood even amongst non technical types - stuff happens while you're doing other stuff. The only thing WinPho 7.5 supports that way is streaming audio, e.g. you can run Spotify in 7.5 and it streams audio while you do something else.
But what about other types of multitasking? e.g. Voip, GPS trackers / navigation, instant messengers, download clients etc.? Do background agents cater for that? Not really.
There are two kinds of agent. Periodic agents are lightweight agents which are allowed to run for 25 seconds tops before they're terminated and may run only once every 30 minutes. Even that granularity is not guaranteed. So they might be useful for periodically checking your mail but tough if you want to poll any faster or use it for for instant messages.
Resource intensive agents (i.e. those that crunch numbers, background download a file) are allowed to run for 10 minutes tops and will not run unless the phone is charging (!). Oh and the screen has to be locked (i.e. not running while any other app is in the foreground).
You can have up to 6 periodic agents and only 1 resource intensive agent running at any one time. The restrictions are so severe IMO that they're worse than useless you may as well ignore the feature altogether and write some tiles and apps and hope users don't notice. BTW I'm not making any of this up, see for yourself:
http://msdn.microsoft.com/en-us/library/hh202942(v=vs.92).aspx
Flagship?!
Is this supposed to be an MS flagship or are they just testing the water? I hope the latter but it would seem strange to slide your OS upgrade out a side door. The spec is underwhelming, not even on a par with the Desire S once you factor in internal memory and the lack of storage expansion. Mind you, Google's Galaxy Nexus (while superior) doesn't exactly break any HW boundaries either.
I'm conflicted. I always enjoy watching MS fail but the smartphone market needs healthy competition. Most folks seem stuck on the idea of MS either getting burnt or conquering the market but it's quite possible mid-table mediocrity will be their niche, e.g. the punters who currently still have Nokia phones.