Buy a $1m storage brute, get a free iPad app
IBM talks up XIV benchmarks, cloud files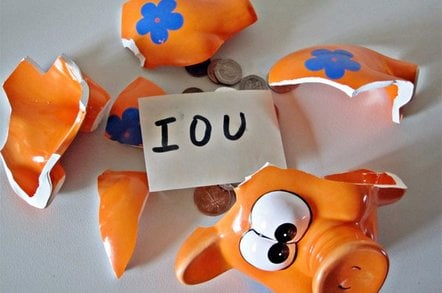 IBM released so many system and storage announcements this week that it was difficult to zoom in on the most interesting ones: there were 55 in all. We'll focus on the high-end array and cloud file storage items in this convoy of news.
Big Blue has improved the Easy Tier's automatic placement of data in tiers on its high-end DS8000 arrays. There is now automated data migration across three tiers of storage, plus automated data rebalancing within a single tier. IBM says Easy Tier is, as its name promises, very easy to implement because only two parameters need setting.
XIV benchmarks
IBM's single tiered XIV high-end array now supports 3TB drives, which ups capacity by half over existing 2TB drive installations. Usable capacity per rack increases to 243TB. Admin staff can now monitor an XIV array's status with a free iPad app, the XIV Mobile Dashboard.
A free fondleslab app for a machine that can cost as much as $1.13m.
Big Blue has also released some XIV benchmark results that focus on energy usage and not sheer performance. The SPC (Storage Performance Council) has two storage benchmarks: SPC-1 for predominantly random I/O from a single workload, and SPC-2 for sequential I/O with three workloads. There are overall SPC-2 measures of MB/sec and price/performance, and individual measures for each of the workloads: large file processing, large database queries and video on demand. Lastly there are SPC-2 energy extensions which focus on energy usage.
IBM says the SPC-2/E and SPC-2C/E XIV results show "large file processing performance that is faster than all SPC-2 submissions from competing vendors to date". That "competing" word is key because IBM's own DS8800 is faster than the XIV, at 8,985.67MB/sec compared to the XIV's 8,259MB/sec.
It also claims the the XIV array provides "outstanding enterprise price-performance", meaning that its SPC-2 price/performance number is $152.34, which compares to the DS8800's $270.38. However, the TMS RamSan-630, an all-flash array, provides 8,323.13 MB/sec, neatly splitting the two IBM systems, at a price/performance of $49.37 – less than a third of the XIV number. El Reg thinks that is outstanding.
As far as the XIV energy usage is concerned, with an annual energy cost of $6,445.03, it is in a category of one as this SPC benchmark is brand new.
Cloud and fabric speed
IBM is focusing on its own systems for cloud file storage and rejecting the NetApp-sourced N Series, saying its "Active Cloud Engine scales cloud file systems by moving files where and when they are needed". An ACE cloud can store billions of files by using IBM's Scale-Out Network Attached Storage R 1.3 (SONAS). Smaller file storage in mid-sized clouds is done on Storwize V7000 Unified systems.
Other news included 16Gbit/s Fibre Channel backbone links and switches for faster SANs as well as additional RackSwitch Ethernet gear featuring 40Gbit/s speeds.
Big Blue is not visibly pushing the short-term storage technology envelope, though it is more than keeping up with the Joneses as we might say, but it does have its mid-term excitement with racetrack memory providing a fizz of technology glamour. ®
Sponsored: Minds Mastering Machines - Call for papers now open