LaCie LaPlug
Share USB devices on your network
Self-help network
Other key features, such as the built-in Wi-Fi and the option for remote access over the Internet, are configured through a web interface. Unfortunately, this isn't as intuitive as it could be – at one point it told me that the Wi-Fi was both enabled and not enabled at the same time, so it took me a little while to figure that out.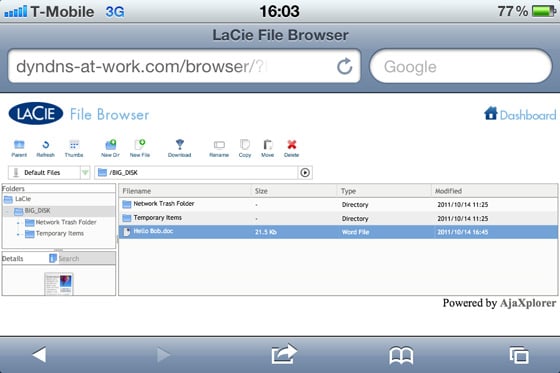 If you know your networking remote access is possible, as shown here on the iPhone
Click for a larger image
The Wi-Fi functionality did work well, though, allowing me to smoothly stream some MP4 episodes of Mad Men and Carnivàle off my memory stick. The LaPlug also supports UPnP networking and acts as an iTunes server, so it can double up as a makeshift media player, if required.
Unfortunately, the remote access option was even less intuitive. The PDF manual included on the CD-ROM makes no attempt to explain how this works, and merely provides a link to the web site of a separate company called Dyn that provides a free DNS hosting service.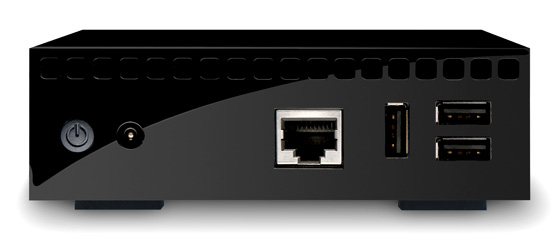 USB 2.0 ports only
If you're not already familiar with the basics of how DNS services work then you'll probably struggle here. I had to be guided through the process step-by-step by one of LaCie's tech support team, and LaCie's staff did eventually acknowledge that the remote access features could perhaps be "better integrated".
Verdict
To be fair, the LaPlug does work very well if you simply want to share USB storage devices on your local network. But if LaCie wants to promote remote access as one of the product's headline features then it needs to document that feature properly. Given its simplicity in other areas, it is unlikely potential buyers of this device will be networking experts and, long term, the 'work it out yourself' approach won't do LaCie any favours if it had any hopes to encourage brand loyalty. ®
More Storage Reviews

LaCie
CloudBox
Seagate
GoFlex Satellite
Zalman
ZM-VE200
Ten…
Desktop
USB 3.0 HDDs
Ten…
Portable
USB 3.0 HDDs
Sponsored: Minds Mastering Machines - Call for papers now open

LaCie LaPlug
A handy option for sharing PostScript printers, hard disks and memory sticks on your network.