LaCie LaPlug
Share USB devices on your network
Review Networkable drives are widely available and affordable these days, but the LaPlug could come in handy if you have a stack of existing USB hard drives or memory sticks that you want to share with other people on your home or office network.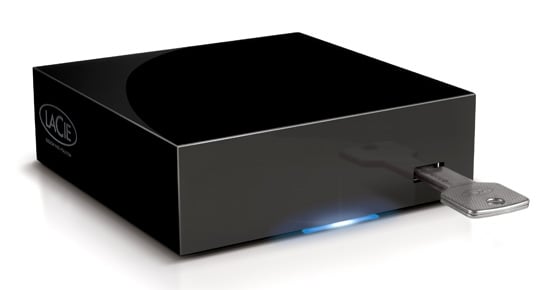 LaCie's LaPlug delivers network sharing capabilities to portable USB storage devices
It's not exactly a new idea, as Cloud Engines has been there and done that with the Pogoplug. Ditto Belkin with its Home Base. Indeed, LaCie even gives gives a nod to the name with the LaPlug, which is essentially a mains-powered, four-port USB hub. Yet rather than connecting it to the USB port of a single computer the LaPlug is equipped with a Gigabit Ethernet interface and 2.4GHz 802.11n wireless networking instead. These allow you to connect it to your network in order to share your USB storage devices with other users.
The initial set-up is fairly straightforward. It does require an Ethernet connection first time around, but you can switch to Wi-Fi once that's done. LaCie provides a piece of software called the Network Assistant, which automatically detects the LaPlug and any devices that are connected to it.
Indeed, I was able to quickly connect a Mac-formatted hard disk and a PC-formatted memory stick to the LaPlug and to access their files from my iMac and a laptop PC with no problems at all. It also worked with Time Machine on my iMac straight away, and PC users get a separate program called Genie that provides basic back-up features.
The LaPlug performed admirably up to that point, but I did hit a few snags as I began to explore some of its other features. LaCie's website says that you can use the LaPlug to share printers too, but only after half an hour of trying to connect my Kodak multifunction printer did I discover the small print that says it only supports PostScript printers.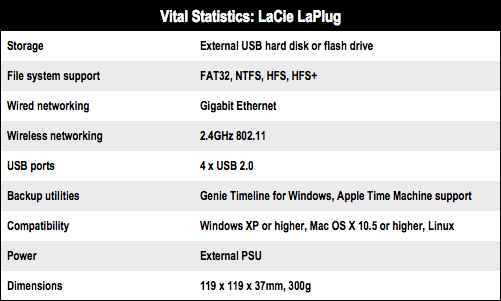 Sponsored: Minds Mastering Machines - Call for papers now open