Gulf of California terrorized by ONE-EYED MUTANT SHARK!
Boffins say 'not a hoax'
Scientists have decided that the "Cyclops shark" caught in the Gulf of California back in June is the real deal: a mutant rather than a hoax.
First coming to light on the Pisces Fleet Sportfishing Blog, the images of the one-eyed dusky shark – actually a fetus found inside someone's catch – were originally dismissed as a hoax.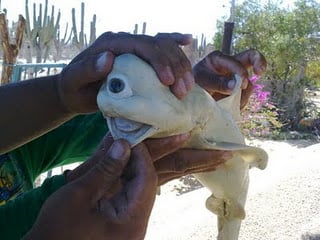 Picture: Pisces Fleet Sportfishing Blog
However, two Mexican scientists from the La Paz Interdisciplinary Centre of Marine Sciences have declared it to be suffering from a disorder – Cyclopia, unsurprisingly – also seen in mammals, and usually fatal.
The news that the shark wasn't a hoax comes from National Geographic, which says that the Mexican scientists – Felipe Galván-Magaña and Marcela Bejarano-Álvarez – made their decision based on x-rays and a review of research on Cyclopia.
Cyclops sharks have only ever been documented as embryos, National Geographic notes, suggesting either that the condition itself is fatal, or that sharks suffering the condition can't compete with their normal siblings. ®
Sponsored: Minds Mastering Machines - Call for papers now open