Hands on with the Motorola Razr
Fix up, look sharp
First Look Motorola let me have a play with its latest smartphone, the Razr, at the handset's launch event in Berlin yesterday.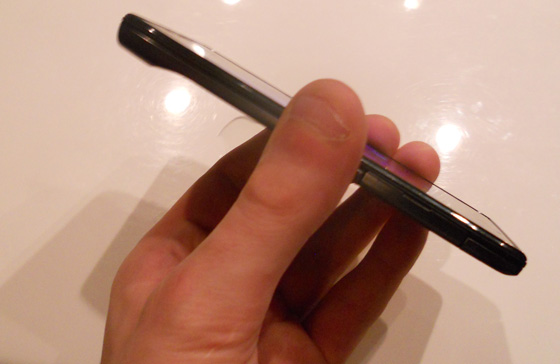 I should first point out that its 7.1mm body feels incredibly thin and impresses from the start. As you can see, it bulges out a bit at the top, thanks to the 8Mp camera and flash, but it doesn't make the phone feel any thicker than its the main part of its body is.
On the top of the phone, there are micro USB and mini HDMI slots, as well as a headphone jack. On one edge, there's the dual Micro SD/Sim port - the Razr uses iPhone-style micro Sims - while the power and volume controls are found on the opposite side.
Also like the iPhone, there's no removable battery. However, Motorola was quick to point out its 1780mAh capacity is large for a phone, especially one this thin, and claimed it should provide more than 12 hours of talk-time. Then again, it's a little disappointing that I can't take a spare power pack with me on long journeys with no charging points.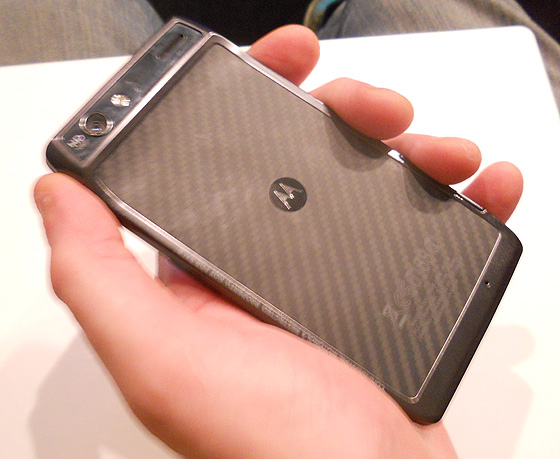 The large, bright 4.3in, 960 x 540 OLED display is about the maximum size a smartphone screen should be. Any bigger and thumb navigation would be too fiddly. The Razr still appears on the large side, though, as if it's a mini-tablet, but definitely passes the pocketability test.
For such a large device, it feels lighter than it should, while still possessing durable qualities. Put simply, the build is awesome. Ditto the the display.
Navigation is smooth too, as is browsing the web, with the 1.2GHz dual-core processor, backed by 1GB of memory, displaying serious prowess. Motorola points to benchmark figures that show the Razr is faster than its competitors - quite a bold claim. There was certainly none of the sluggish behaviour I've come to associate with older Motorola Android phones.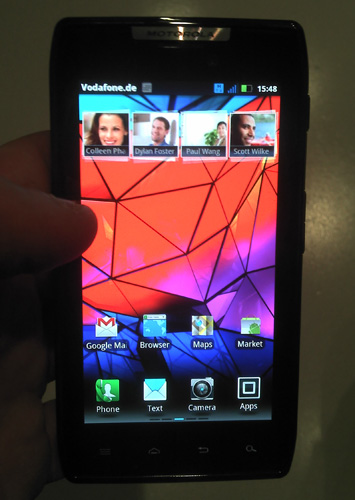 Saying that, the Razr's 8Mp camera could have reacted quicker and felt somewhat poor in comparison to that of the iPhone 4S. Video playback does look slick on the qHD resolution panel with a clip of Toy Story 3 proving film-watching on a display this size is more than adequate for long trips. I don't have the same enthusiasm for the 3.7in size of the Motorola Defy's display.
Unfortunately, the Razr is stuck with Android 2.3 Gingerbread, but we were told that many Ice Cream Sandwich features have been brought forward ahead of an expected update in Q1 2012.
One of the more impressive features, SmartActions, lets users set rules for different parameters. For example, you could choose to automatically open your music player when headphones connect, or switch to silent mode during the times you know you'll be on a train.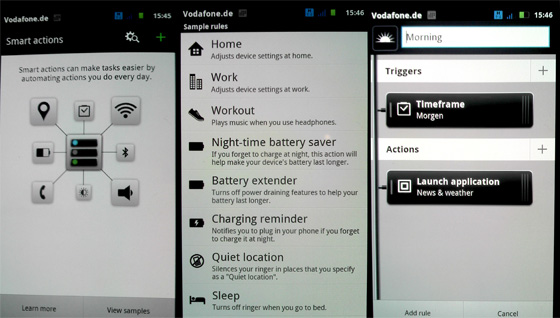 Set up your SmartActions
The company has also included its new cloud-based service MotoCast, which will stream or download content through remote access to a PC or Mac anywhere in the world.
I gave it a shot, streaming video from a server based in the States. It was quick to load and performed well, streaming at a good quality with no noticeable lag. That said, Motorola didn't show me what network infrastructure was feeding the Razr's 2.4GHz 802.11n Wi-Fi connection.
All in all, the Razr is a stunning device that should give the company a boost, following some fairly-disappointing efforts in the mobile marketplace recently.
Depending on where it sits on the pricing ladder, the Razr should be a worthy competitor to rival smartphones. It's coming soon - early November, to be exact - and our in-depth review will follow closely behind. From a five-minute play-around, though, I have to agree with Motorola: this is one sexy smartphone. ®
Sponsored: Minds Mastering Machines - Call for papers now open