Cisco girds Nexus switches for data center battle
10GE and 40GE artillery
Protecting the data center core
Speaking of the Nexus 7000 modular switches, there's a new entry chassis coming called the Nexus 7009 that is aimed at smaller data centers and as a core network for campus networks. Here's how it stacks up against the current Nexus 7010 and 7018 data center switches:
The Nexus 7009 chassis has almost as many ports as the larger Nexus 7010 using the new Fabric 2 switch modules – 336 as opposed to 384 – but crams it into 14 rack units instead of 21. Cisco is mounting the seven line cards in the Nexus 7009 horizontally and removing a whole lot of what is apparently extraneous cooling space in the larger Nexus switch chassis. – the Nexus 7009 has side-to-side cooling, which is how it can be packed tighter.
The new F2 Series line card has 48 10GE ports that burn less than 9 watts per port, and the Fabric 2 switch modules can deliver 550Gb/sec in switching bandwidth per module, considerably more than the 230Gb/sec in the Fabric 1 modules. You add line cards in the front and switch modules in the rear of the chassis, which can scale between 5 to 11.5 billion packets per second of message handling and between 8.8Tb/sec and 18.7Tb/sec of non-blocked switching capacity, depending on the model, when fully loaded.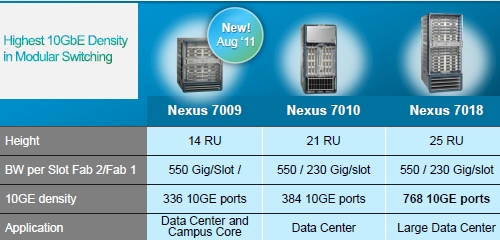 The Nexus 7000 module switch chassis
The new Nexus 7009, which has been shipping quietly since August, costs $20,000. The Fabric 2 modules cost $12,000 a pop for the Nexus 7009 and 7010 chassis and $18,000 for the Nexus 7018 enclosure. These Fabric 2 modules are shipping now for the Nexus 7009 chassis and won't ship until November for the two larger modular switches. The Nexus 7000 F2-Series I/O modules will ship in November as well, and cost $44,000 each.
That sounds like a lot of money, but here is how Ram Velaga, vice president of product management for Cisco's Data Center Solutions division, does the competitive math: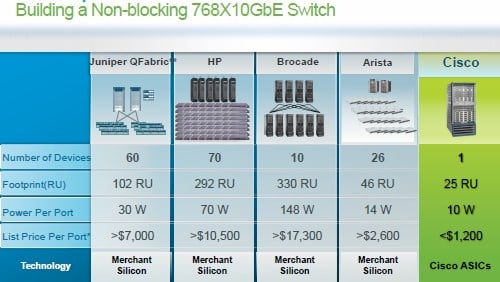 How Cisco stacks up the Nexus 7000 against the competition
Those comparisons are for getting 768 ports running at 10GE speeds in a non-blocking manner – Cisco clearly thinks it has a competitive winner.
Cisco made a number of other tweaks as part of the Nexus sweep. One was adding a 32MB buffer to its Nexus 2248TP-E switch so it can handle buffering of bursty traffic, such as video streams, better.
Another is a promise to make its Adaptive Security Appliance (ASA) firewall appliance, which is sold as a piece of hardware or a plug-in module for Catalyst switches and which has sold over 1 million units to date, available as a virtual appliance. It will be called the ASA 1000V and will complement the Nexus 1000V virtual switch for ESXi hypervisors (and soon Hyper-V) and the Virtual Security Gateway, which came out a year ago as virtual appliance. ®
Sponsored: Minds Mastering Machines - Call for papers now open