Brits forced to join waiting list for iPhone 4S
Hurry while stocks la... oh, too late
Brits will have to reserve a iPhone 4S if they want to ensure they'll get hold of the slightly souped-up Jesus mobe within the next few days - but chances are they won't make the waiting list anyway.
To deal with high demand and limited stock, Apple has introduced a system whereby a punter can hit Cupertino's website, reserve an iPhone 4S after 9pm and pick it up the next day – just like it has in the US – but that will only work if the Apple Stores have the iPhone in stock... and it looks like they don't. Not tonight anyway.
The site shoves up an "unavailable" sign if no stock is available and a random click-around on various Apple shops in London, Milton Keynes and Belfast showed that many places really were sold out. We couldn't find one that did have the phones available. Check back this evening, of course.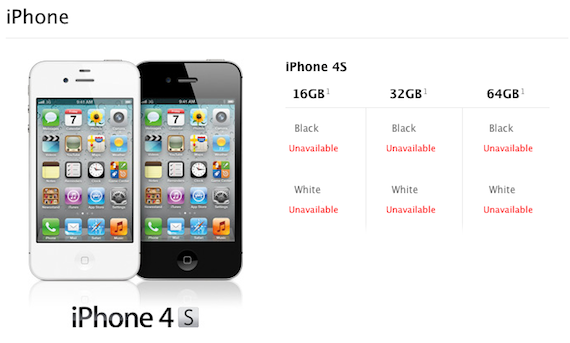 Apple UK's flagship Covent Garden store has been sold out for several days and hasn't had a delivery since Friday. Staff were telling fruity tech fans that they would have to ring early in the morning to check if a new batch had come in. It may be easier to get hold of a fabled 4S if you grab one with a telco contract: staff at Covent Garden confirmed they will set aside a cache of 4S models for people who want to buy one with a contract.
Apparently not even staff members have been able to buy the phones.
In the meantime, those desperate for a Jesus-mobe of their very own can visit this page at 9pm and keep their finger on the trigger button.
Apple says it has sold 4 million of the iPhone 4S devices since launch on Friday, and that initial sales are double the numbers of iPhone 4 models sold in its first three days on the market back in 2010. ®
Sponsored: Minds Mastering Machines - Call for papers now open