Canon's fresh 18Mp DSLR flirts with film-makers
Dual-processors leave the mark
Canon today unveiled its latest digital SLR refresh, with an 18.1Mp full-frame snapper aimed at pro sports and studio photographers.
The Canon EOS-1D X, a replacement of the EOS-1D Mark IV and EOS-1Ds Mark III, is what the company calls "the film-maker's DSLR", as it features 1080p video recording with manual exposure, focus and frame rate controls.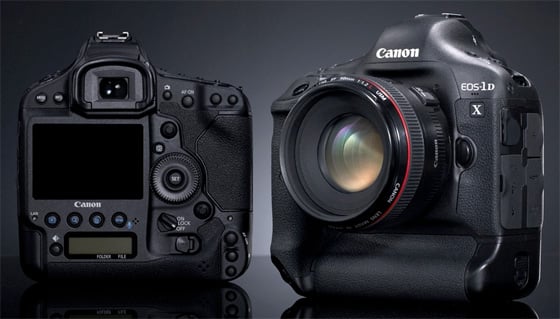 With a 18.1Mp CMOS sensor and dual Digic 5+ image processors - said to be five times faster than the current Digic 5 - the EOS-1D X is undoubtedly a snazzy snapper.
There's a 3.2in LCD display, a 61-point AF system and heaps of new AF presets. Then there's a fresh metering system with a 100,000 pixel RGB sensor powered by its own Digic 4 image processor.
Canon leaves no stone unturned, packing commendable low-light settings through an ISO range of 100-51,200, but capable of reaching 204,800.
As you can imagine, a beast like this doesn't come cheap. The Canon EOS-1Dx is expected to retail for over £5000. It'll go on sale next March, in plenty of time for the London Olympics. ®
COMMENTS
If any one at Cannon...
...would like to give me one in return for what I can assure them will be very positive reviews amongst my friends, family, colleagues and fellow commentards, I'd be much obliged.
204800 iso?! holy cripes batman!! that must be high enough to see through clothes!!