Bog builder pushes out poo-powered motorbike
Plopper on the chopper
Japan's leading toilet manufacturer has really pushed the float out with its promotional activities, creating a poo-powered motorcycle with its own built-in lav-look seat.
The Toilet Bike Neo runs on biofuels such as compressed livestock waste and household wastewater, so while the design looks like a portaloo on wheels, it doesn't actually function as a khazi.

Even if it did , you'd have to be mentally unstable to sit so publicly at the traffic lights, squeezing out a Richard the Third - see Viz's Profanisaurus.
Toto, the company behind the design, says the bike is a promotion for its "environmental efforts" and is currently taking the crap-crunching cycle over 1000km from the Toto HQ to Tokyo, where it will arrive on 2 November.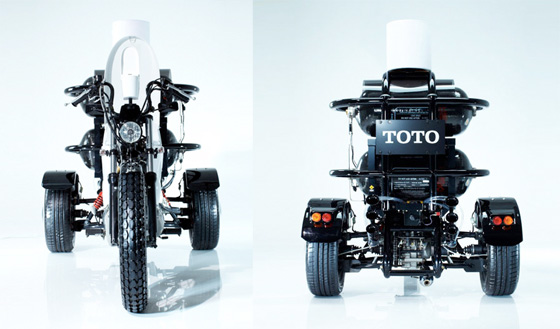 The bog bike can reach maximum speeds of around 50mph, and Toto reckons it could reduce CO2 emissions by 50 per cent in just six years. Though if folk get too keen on the design, methane emissions may rise.
But that's probably dependent on everyone literally getting their shit together and actually using one.
Ride like the wind... ®
Sponsored: Minds Mastering Machines - Call for papers now open