Amazon Kindle 4
The library in your pocket?
Incredible shrinking manual
The big change between Kindle 3 and 4 is a reduction in size. The bezel is much narrower and, as you'll have seen from the snaps, there's no keyboard. The new model is a fraction of a millimetre thicker, but feels more so thanks to a less rounded, less tapered edge.
The build quality seems decent enough.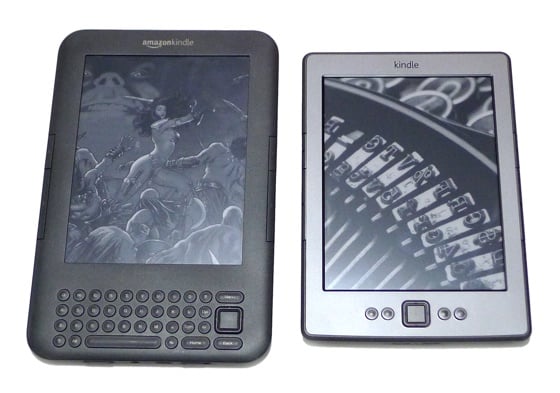 The old generation... and the next
The new Kindle is more pocketable than its predecessor, and while the virtual Qwerty keypad is certainly less convenient - and slower for text entry - than a physical one, when you're only keying in search strings and Wi-Fi WPA 2 keys, that's no real problem. If you expect to type more than that, wait for the Kindle Touch or go for the still-available Kindle 3, now renamed the Kindle Keyboard.
I like the Kindle 4's smaller size, but I miss the Kindle 3's curves and darker looks. And the old model had bigger page turn controls. The new ones are narrower than before, so they're rather harder to trigger one-handed.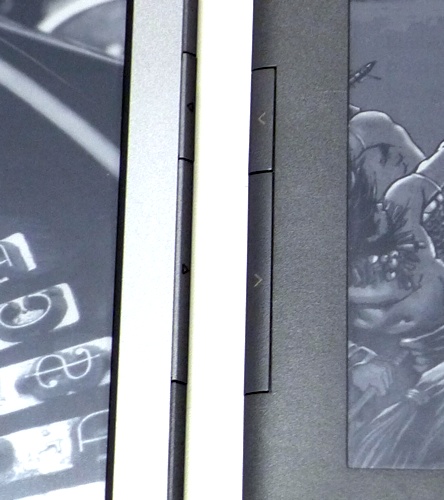 Kindle 4 has much narrower page turn buttons than its predecessor did
Amazon has given the Kindle 4 the same 6in, 600 x 800, 167ppi E Ink Pearl display it used in the 3. I still prefer it to squinting at a smartphone screen. What has changed is the refresh rate, sped up by cutting the regularity of a full screen reset - e-book readers' infamous black flash between new pages - from every page to every six pages.
Clearing the screen - turning all the pixels black - has the advantage of resetting the tiny particle packets used to shade each pixel. The cost is page turn time.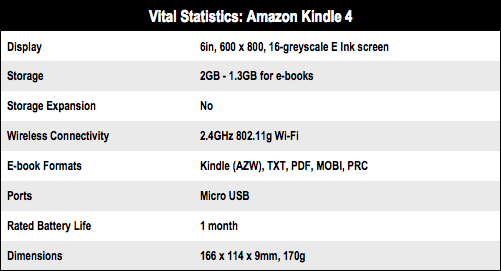 Sponsored: Minds Mastering Machines - Call for papers now open