Ace Combat: Assault Horizon
Wings and roundabouts
Air fix
A green circle indicates when close enough to engage DFM. Hold L2 and R2 and the camera snaps behind your plane as it automatically follows the enemy's manoeuvres, leaving you to make fine adjustments to keep the enemy within the aiming reticule. Once it turns red, your missiles are guaranteed to hit home.
DFM also helps to shake off enemy fighters. By hitting the air brakes and overlapping red and green threat markers on your HUD, holding L2 and R2 pulls of a special manoeuvre to outfox your pursuer and bring them directly into your sights.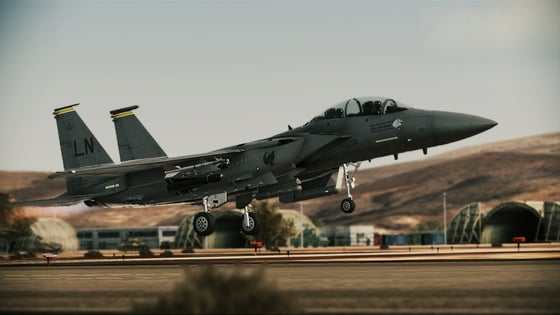 Scuse me while I hit the sky
There's a catch, though. You're unable to evade missiles when engaged in DFM. It's a clever move to prevent the technique from out-muscling gameplay. A fine balance is required between aggressive and defensive flying, and you'll need to keep a close eye on the CoD-style damage system to alert you when to disengage from close pursuit.
That recharging health system may be too reductive for purists - permitting several missile hits and minor collisions with buildings and the ground before your plane explodes - but it's a good fit for the game's arcade sensibilities. As are the occasional boss encounters, time-limited dogfights requiring you to down large bombers or cruise missiles with frankly ludicrous amounts of ordnance.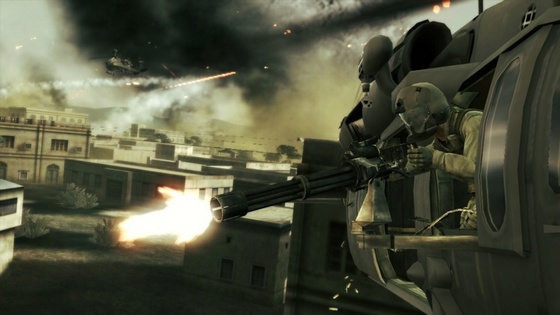 Light at the end of the turret
While highly implausible, boss encounters at least bring variety to regular combat. Despite the robust and engaging mechanics and aggressive enemy AI, with each level comprising a 30-minute dogfight, the mainstay of combat flies dangerously close to repetitiveness. Mounted gun and helicopter levels help spice gameplay up and, in truth, are so well executed, they'd slot effortlessly into any Triple-A shooter – especially those providing close fire support to ground troops from the door gun of a UH-60 Blackhawk. But their overuse in those other games and their heavily scripted enemy routines here lessen their appeal.
Repetition is also a factor in Assault Horizon's multiplayer. The crossover of aerial combat and Call of Duty's progression system, perks and killstreaks feels familiar yet fresh. Gameplay is surprisingly well balanced to accommodate fighters, mixed-role and ground attack planes, and even helicopters - nowhere more so than in Capital Conquest and Domination, cleverly considered modes which promote team play across the full spectrum of aircraft. But while human opposition adds renewed vigour to dogfighting, extending Assault Horizon's longevity, the arcade mechanics and repetitious nature of DFM ultimately curtail the experience.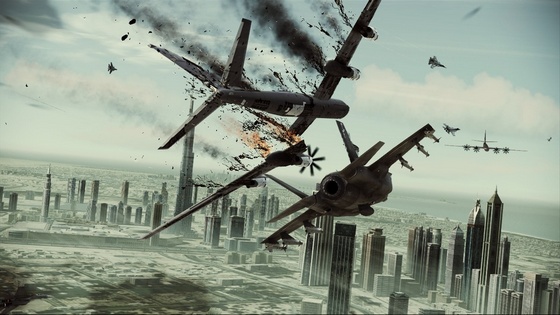 Bombers away
Verdict
The combination of balls-to-the-floor speed, simple yet effective flight controls and novelty in its Dog Fighting Mode brings a paradigm shift to the aerial combat genre. Displacing the FPS as Generalissimo of videogame warfare remains as unlikely as ever, but thanks to Assault Horizon, the genre at least deserves a promotion. ®
More Games Reviews

Dark Souls
Rage
Ico & Shadow of the
Colossus Collection
Rise of
Nightmares
F1 2011
Sponsored: Minds Mastering Machines - Call for papers now open

Ace Combat: Assault Horizon
Namco Bandai achieves air supremacy with a successful reboot of its Ace Combat series. Available on PS3 (tested) and Xbox 360.