Ace Combat: Assault Horizon
Wings and roundabouts
Review "For good or for ill, air mastery is the supreme expression of military power," said Churchill, "and fleets and armies, however vital and important, must accept a subordinate rank."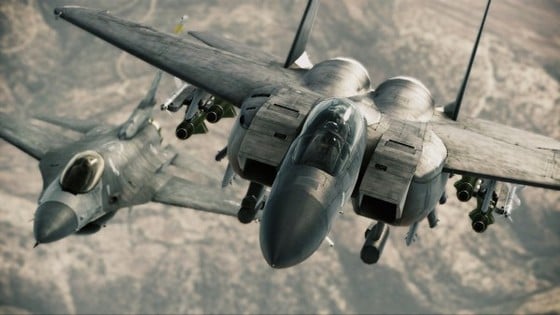 Taken under the wing
That may be true in the real world, but when it comes to videogames air combat has long accepted a subordinate rank to the supreme expression of digital conflict: the First Person Shooter.
By taking a leaf from Call of Duty's military manual, Ace Combat: Assault Horizon hopes to challenge that preponderance. From the acronym-heavy jargon and 'ooh-rah' camaraderie of cut-scenes to the unlockable perks and killstreaks of multiplayer, Assault Horizon's influences are obvious. But despite the familiarity, there's enough novelty to prevent contempt from shooting down Namco Bandai's reboot of its popular dogfighting series.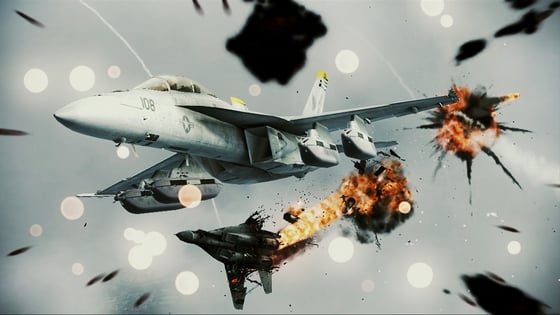 Bomb jetonated
That novelty doesn't extend to the narrative, though. The story of an ace NATO squadron fighting to prevent a Russian military coup so closely follows the flight path of Hawx 2 that Jim DeFelice, the "best-selling author of military thrillers" who penned it, must have plotted it on autopilot. Fortunately, the prosaic yarn of WMDs and ultra-nationalist secession is played out in skipable cut-scenes that only briefly and occasionally interrupt gameplay.
The dogfighting is, however, a lot more exhilarating. Resolutely arcade, Assault Horizon eschews plausibility in favour of bone-jarring thrills. Flight dynamics are kept simple, but there's enough variation in airspeeds, manoeuvrability and weapon loadouts to ensure its bleeding-edge military fighters all behave distinctly. As do enemy fighters which, thanks also to decent AI, require you to tailor your tactics on the fly for effective combat.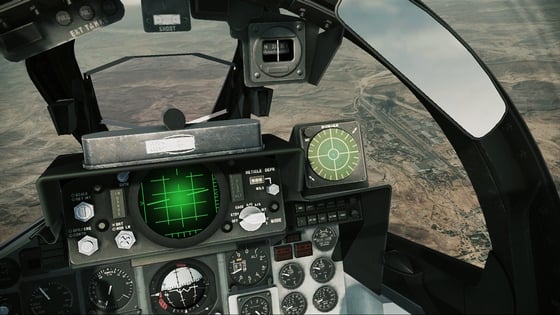 Clockpit
Bogeys are classified as regular Targets or Target Leaders to distinguish rookie pilots in inferior fighters from combat aces in superior ones. While a missile lock or cannon fire from behind is sufficient to down most regular Targets, Target Leaders present a more formidable challenge, demanding the use of Assault Horizon's novel mechanic, Dog Fighting Mode.
COMMENTS
Sir
So you're into retro then?
I want one with British jets
Decent game with Lightning, Harrier, Vulcan ect.
I am sure a lot will buy.
Played the demo on PSN
I quite enjoyed the plane mission, though as mentioned, it's very simplified, and I too was reminded immediately of HAWX. I ditched the default over-the-wing and 3rd-person modes immediately, as I always do, and it seemed competent enough.
Where I thought it would really shine was the helicopter mission. To my surprise, it didn't come across well. The controls seem rather obtuse, like the developers should have played G Police first, and they've tried to bring over some of the dogfighty feel from plane combat by allowing you to dodge missiles...via barrel roll....
Yeah, that was kinda when my suspension of disbelief shattered entirely. The chopper mission is also hard as hell. I'll give it another shot this weekend, see if it improves with a second go.
you know what?
so far so good. i need to get used to the new style view, as it seems to be quite a bit closer to the fighter and controls seem more responsive compared to previous versions, but i'm liking what i'm seeing so far. People who don't like the new scheme can still fight in classic style, but it'll be nigh on impossible to kill the aces that are flying around. The new dogfight setup works well, but also takes some getting used to when you're used to the old style of playing, the flying will be mostly done by the computer, but you don't really notice it until you move left and the fighter goes right (in response to the target's movement).
first time out i splashed into the ocean, because i wasn't paying attention, will need to pay a bit more attention on my next run.
May get this, I hate realistic flight simulators and there just isn't enough arcade style flight games about.
If it's as arcady as said then BANDAI MAKE A MACROSS FLIGHT SIM NAOW! As in right now, no dont' wait, just go, do it, naow!