Flashback: The Quest for Identity
Totally recalled
They took his memory. Now he wants it back
Later on, the game transports you to the aliens' home turf to face off against the eeevil mastermind behind all the unpleasantness, and !!SPOILERS!! gives us one of the most ballsy, downbeat endings in a game since Gryzor's slap-in-the-face ending sequence which read: "Well Done. However, the planet blew up and you died."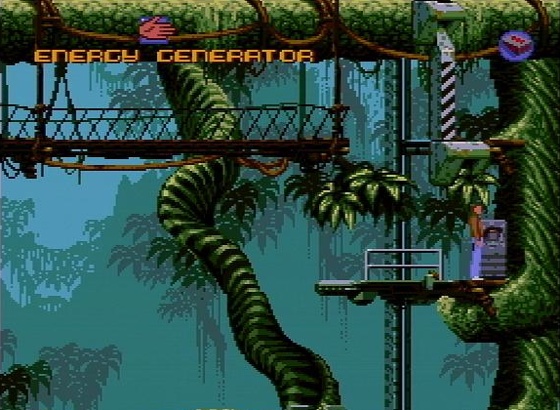 Welcome to the jungle
Each level is bookended by a cinematic full-motion polygonal clip which sheds further light on the sci-noir plot. On most 16-bit consoles this was practically unheard of, as most games of the era were static anime pixel art of guys in purple capes informing us that all our base were belong to them.
Delphine, the clever Gallic guys behind Flashback's spiritual predecessor, Another World, instituted a more advanced, stylised rotoscoping to bring Conrad and his foes to life. Think Prince of Persia with jetpacks replacing turbans. These were arguably some of the best graphics of the early nineties. It's crying out for a hi-def remake, a la Another World, which recently received just that.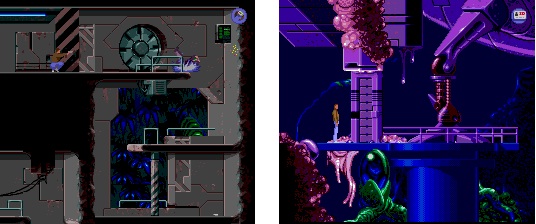 Cyberpunk classic
The music is unobtrusive, and only plays when a particularly tense or dramatic sequence occurs. Most times though you have the ambient sounds of jungle life, or the splodgy, squelchy sounds of aliens squidging about their home planet.
I remember receiving the game as a youngling for my birthday on the Sega Mega Drive - merely two days after playing and completing the cinematic masterpiece that was Another World - and it still holds up even after almost two decades. ®

Developer Delphine
Publisher US Gold
Platforms Amiga, Mega Drive, MS-DOS, SNES, Mac
Year of release 1992
More Info Flashback in the iTunes App Store (£1.49)
Sponsored: Minds Mastering Machines - Call for papers now open