The life and times of Steven Paul Jobs, Part Two
Empire-building inspirational visionary, or megalomaniacal swine?
Empire-building
At 10am on May 19, 2001, a computer store opened in Tysons Corner, Virginia. Three hours later, another one opened in Glendale, California.
These two stores prompted BusinessWeek to run a story entitled Sorry, Steve: Here's Why Apple Stores Won't Work.
That article quoted the president of the retail research firm Channel Marketing as saying: "I give them two years before they're turning out the lights on a very painful and expensive mistake."
Another analyst told Cnet that the stores were merely "toy stores for the Mac faithful. To be able to boost Apple sales, I don't see them doing that".
A third, in the same story: "Wouldn't it just make more sense to spend $100 million on an advertising campaign that reaches a lot of people rather than opening stores that get a little traffic in select areas and are expensive to maintain over time?"
Today there are 357 Apple retail stores in 11 different countries. Again, Steve Jobs – who conceived the idea of upscale, hands-on computer shopping and hired former Target exec Ron Johnson to implement his ideas – was right, and his detractors were wrong.
In public, at least, Jobs' goals were modest. "Apple currently has around five per cent market share in personal computers. This means that out of one hundred computer users, five of them use Macs. If only five of those remaining 95 people switch to Macs, we'll double our market share."
As of March 2011, according to StatCounter, Mac OS X market share in the US was 15.36 per cent. NetMarketShare puts that number a little lower, at around 13.5 per cent.
In a video aimed at developers, Jobs toured the Tysons Corner store. Showing off the store's shelves of software, he said: "We can't wait to feature your software right here, in every single one of our stores. So, go write some more for us, and we'll build more shelves for as much as you can write."
Ten years ago, Jobs was courting developers, working to dispel one of the most-frequently heard arguments against buying a Mac – that there were far more titles available for users of Windows machines. Today, Apple is more discriminating, as it picks and chooses what goes into its online iOS App Store and Mac App Store.
But before those two online stores could alter the world's software sales calculus, Jobs turned the music industry on its head with Apple's first retail online-content effort: what was at first called the iTunes Music Store.
The store was created during a period of rampant piracy, when everyone – well, maybe not your great aunt Bessie, but nearly everyone else – was freely snagging music off the internet using utilities and services such as Napster.
The Napster app and service was launched in 1999 by Shawn Fanning, who Time magazine claimed was "nicknamed 'Napster' for the nappy hair under his omnipresent baseball cap". By early 2001 it had 50 million users, and a boatload of legal problems.
To Jobs, the problems faced by Fanning and Napster CEO Hank Barry, coupled with the astonishingly fast growth of that company's user base, was an opportunity to create the end-to-end hardware, software, internet, and marketing scheme that he had discussed when introducing the iPod.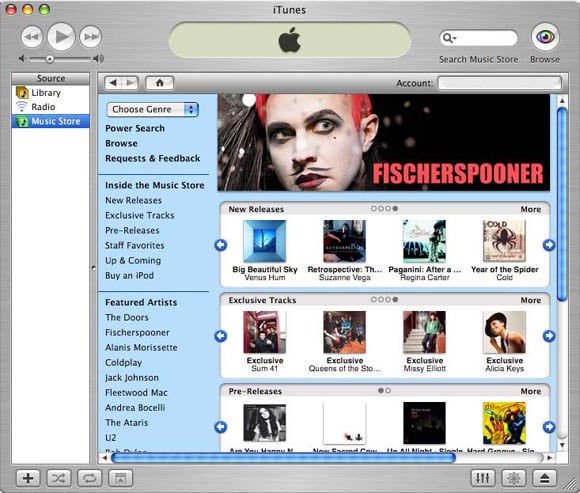 The iTunes Music Store, shown here in May 2003, went on to have a far more lucrative career than Fischerspooner
As Apple launched the store on April 28, 2003, Jobs said: "Consumers don't want to be treated like criminals and artists don't want their valuable work stolen. The iTunes Music Store offers a groundbreaking solution for both."
The idea of DRM-protected content being distributed over the internet wasn't new. Remember MusicNet, created by EMI, Bertelsmann, and AOL Time Warner, and launched in April 2001? It still exists, but as a backend provider. Subscription services such as Spotify find their adherents, as does Amazon's music store, and others.
Just as the iPod was far from being the first digital music player, Apple's music store wasn't the first place to buy music online. But it's inarguable that the iTunes Music Store became, and still is, the Big Kahuna of online music distribution.
Jobs bet that people would rather pay a relatively nominal fee for legal tunes presented and purchased one by one in a coherent purchase/store/play system, and not have to configure each hardware and software component of their system themselves, obtain the majority of their music illegally, and hope it all worked out.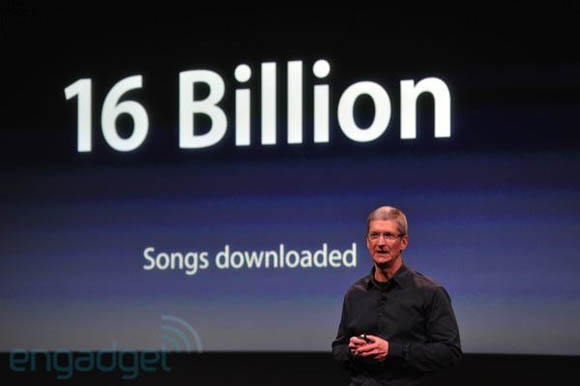 More than two songs per living earthling, downloaded in eight and one-half years
The record companies bought Jobs' "protect against piracy" argument, and customers bought songs by the squillions – during Apple CEO Tim Cook's introduction of the iPhone 4S on October 4, he announced that 16 billion songs had been downloaded from the store.
The iTunes-iPod-iTMS system proved that Jobs' strategy of end-to-end control worked – although, it must be noted, the iTunes app made it easy to also add songs that had not been purchased from the iTunes Music Store. That said, end-to-end control was a strategy that Jobs would employ more and more often – and more and more strictly – in later years.
As noted in a November 2001 Fortune article, Jobs at the time was fond of saying that one of Apple's strength was that "we build the whole widget". As his Apple grew, the definition of widget expanded almost to the point where it encompassed the user.
Had Jobs lived to a ripe old age, it would have been interesting to see how far he would have taken that strategy – or, for that matter, at what point he might have backed off.
Sponsored: Minds Mastering Machines - Call for papers now open