The life and times of Steven Paul Jobs, Part Two
Empire-building inspirational visionary, or megalomaniacal swine?
Digital hubbub and the iPod
On October 5, 1999, when Apple debuted the first FireWire-equipped iMacs – the iMac DV and iMac DV SE – it also unveiled a bundled app that was destined to reroute the company's fortunes, albeit indirectly.
That app, which ran on the Mac OS 8.6 operating system that came with those iMacs, was iMovie, which invited users to tether their MiniDV cameras to their iMacs over their FireWire ports, upload their videos, and then edit them with its rather straightforward interface.
iMovie was the first spoke connecting, in its case a camcorder, to a concept that Jobs would introduce at the January 2001 Macworld Expo: the "digital hub".
"We believe the PC – or more importantly the Mac – can become the digital hub of our new, emerging digital lifestyle," Jobs told his keynote crowd.
"We first began to understand this," Jobs said, "with the camcorder, because we invented an application called iMovie that added tremendous value to a camcorder."
The whole digital hub strategy that iMovie uncovered, according to Jobs, was the integration of hardware, the OS, the iMovie app, the internet and – of course – marketing. The lightbulb went off, he said, when he realized that "Apple's uniquely suited to do this because we're the last company in this business that has all these components under one roof".
The digital-hub concept may have started with digital video and iMovie, but Jobs saw it extending into all other areas of digital-device content: images, music, personal assistants, and so on. "We think this is going to be huge," he said.
It's fair to say he was right. And it's also fair to say that it wasn't digital video that anchored the digital hub, despite how hard Jobs pushed iMovie and iDVD, which he announced at that same keynote. It was another app also introduced that day: iTunes.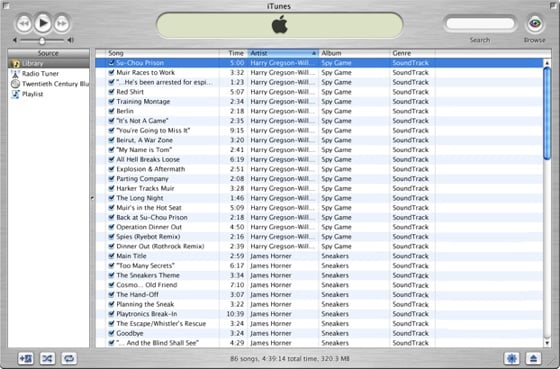 iTunes 1.0's basic layout was not significantly different from that of the current version, iTunes 10.4.1
But even more important than iTunes – which, by the way, was an Applezation of Casady & Greene's more competent SoundJam MP that Apple had purchased the previous year – was the cigarette pack–sized MP3 player that Apple released later in 2001: the iPod.
"Success has many fathers," as the old saying goes, and the (eventually) successful iPod has had its share of paternity claimants. Jobs deserves credit for recognising the importance of a large capacity and tight integration with iTunes. Jonathan Ive deserves his share, as well, for the then unusually bright and sleek design.
Then there was Jon Rubinstein, late of iMac fame, who told Wired in 2006: "I don't know whose idea it was to do a music player, but Steve jumped on it pretty quick and he asked me to look into it."
Runbinstein, while attending Macworld Tokyo in February 2001, visited Toshiba, where he was shown an early 1.8-inch hard drive – the drive that enabled the iPod that Rubinstein and his team eventually manufactured to hold the "1,000 songs in your pocket" that early ads for it emphasised.
But the relatively unknown daddy of the iPod was Tony Fadell, whom Rubinstein hired to engineer the device. Fadell was a veteran of Bill Atkinson and Andy Hertzfeld's General Magic, an Apple spinoff that was the incubator of early "personal digital assistant" technologies, as well as Philips Electronics.
Fadell and his team designed the iPod technology, Ive the iPod's case, marketing honcho Phil Schiller was reported to have suggested the scroll-wheel main control, and Rubinstein kept the team focused, staffed and funded. But it was Jobs who shepherded it in toto.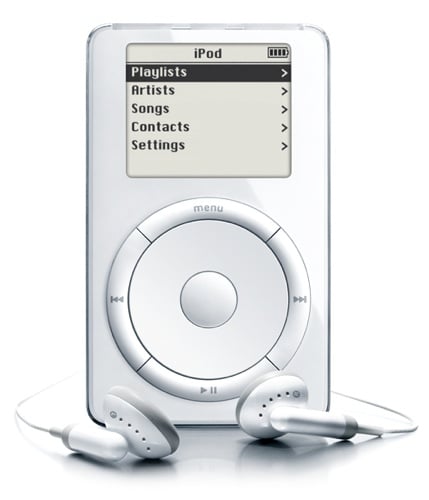 If the iMac saved Apple's bacon, the iPod defined its future: consumer electronics
As The New York Times quoted him as saying, "Most people make the mistake of thinking design is what it looks like. People think it's this veneer – that the designers are handed this box and told, 'Make it look good!' That's not what we think design is. It's not just what it looks like and feels like. Design is how it works."
Jobs made sure that the iPod worked in the way Jobs wanted it to work.
As Jonathan Ive remembers, "Steve made some very interesting observations very early on about how this was about navigating content. It was about being very focused and not trying to do too much with the device – which would have been its complication and, therefore, its demise."
The 5GB iPod was announced on October 23, 2001, and shipped a few weeks later. It met with a tepid reception due to its high price, lack of equalization, and other shortcomings.
Even the usually perspicacious vulture-identified publication you are now reading called it "a 'me too' product" in comparison with its competition – specifically the more-than-twice-as-hefty, non-pocketable, far less expensive, 2.5-inch drive–equipped, portable-CD-player-bastard child Creative Labs Nomad Jukebox, which had been released a few months earlier.
Oops.
We hastened to cover our tracks, however. After actually playing with the li'l fellow, The Reg concluded: "We like iPod, and we think a lot of other Mac users are going to too."
A lot of other Mac users – and PC users, as well – eventually did. As of the end of 2010, in all of its many iterations, nearly 300 million iPods had been sold. Its success – slowing now – began the process that led to Jobs dropping the word "Computer" from Apple's name at yet another Macworld Expo years into the future, on January 9, 2007.
One final note about Jobs' design sense and finger-on-the-pulse-of-the-market vision at the turn of the millenium: it wasn't always as spot-on as his more fervent hagiographers might paint it to be.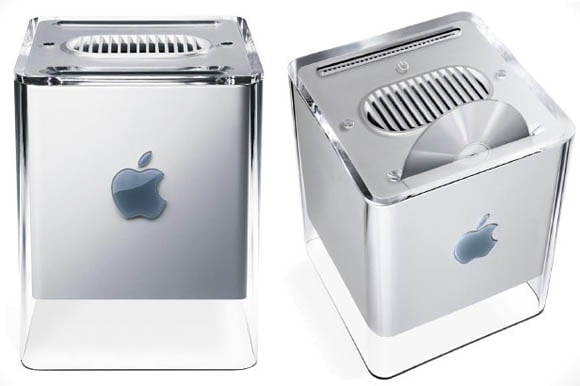 The Power Mac G4 Cube – even a heavy hitter strikes out at times
Jobs' beloved Power Mac G4 Cube debuted in July 2000, and one year later – in one of its finer marketing doublespeak releases in many a moon – Apple said that it would "suspend production of the Power Mac G4 Cube indefinitely," and that there was "a small chance it will reintroduce an upgraded model of the unique computer in the future".
That didn't happen, of course – the Cube was dead. However, its more affordable and less ostentatious descendant, the Mac mini, did show up in January 2005.
Sponsored: Minds Mastering Machines - Call for papers now open