Toshiba Qosmio X770 17.3in 3D gaming notebook
Fully loaded
Game on
Next up I tried the greatly anticipated Battlefield 3 beta. I was able to max out the settings and get between 30-50f/s. Not bad, Toshiba. As I started each game, the temperature would rocket instantly and, when the fan kicked in, I was both surprised and impressed with the lack of noise it generated.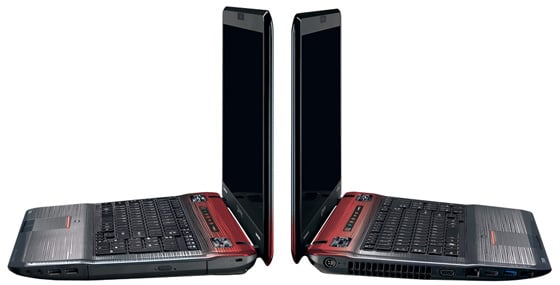 Chunky but still fairly portable even at 3.4kg
Even so, I have to say I was quickly distracted from the game by the heat as the Nvidia GeForce GTX 560M graphics chip with 1GB of dedicated GDDR 5 video memory set to work. As a GPU, it managed to handle anything I could throw at it with grace and clarity. It also delivers the stereoscopic visual treats with Nvidia's 3D Vision technology.
As for the benchmarks, its performance on Futuremark's latest number cruncher, PCMark 7, seems to give a better indication of the capabilities of this configuration, especially when compared up against the Dell Alienware M18x.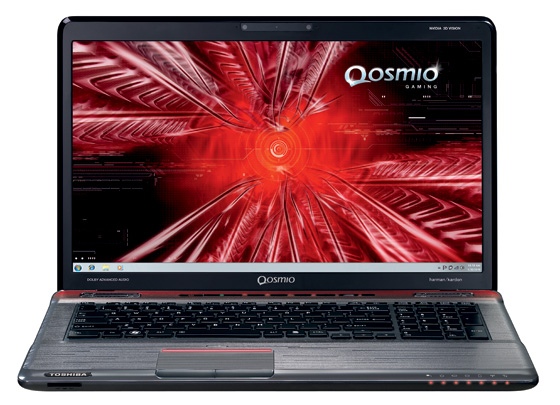 The full HD 17.3in screen puts on quite a display in both 2D and 3D modes
However, using the older PCMark Vantage - apparently intended for Windows Vista - the X770's score seems erroneous when Reg Hardware's office Acer TravelMate 5760G notches up a higher figure despite being a Core-i5 model. A nose around on-line for other scores produced by the X770-10J showed similar results when using PCMark Vantage. Tests with 3DMark 11 produced the combined score of 2315, beating the Alienware M18x's 1910 figure. With 3DMark 06, the X770 managed a score of 15,002.
The X770 battery lasted 55 minutes on a looping PCMark Vantage test, that's not even a train journey to Reading for me, so very disappointing. Yet it is a rather punishing work out, so with a bit of performance tweaking your mileage will undoubtedly vary. Like other gaming laptops with improbable weights, the fact you're going need to plug it in every hour makes its mobile gaming tag somewhat redundant. Why not buy a desktop for around the same price?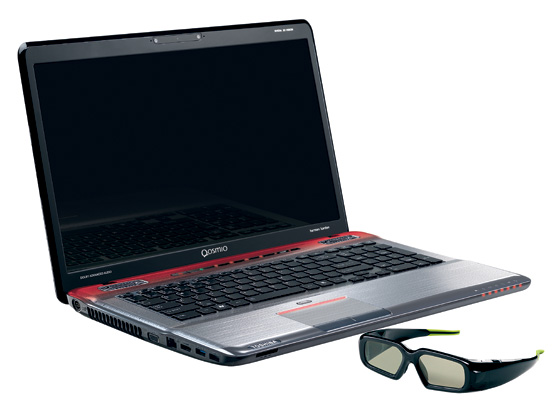 Perhaps more a gaming desktop replacement than something you'd want to carry around that often
Luckily, the X770 has some tricks up it's sleeve and, as an arty type, having two HD webcams – that allowed me to record 3D video and images – had great appeal. Also, I doubt if I would have any problems storing large digital video or photograph files given that it features two 500GB drives, one of them being a hybrid model with a 4GB Flash SSD on-board. Extras such as these, combined with a super vivid display and accurate gameplay, certainly make it an attractive proposition if speed and mobility are important to you.
Verdict
I'm impressed with the look and feel of this beast and 3D maybe a gimmick but it's sets this laptop apart from it's peers. But for £1700 and an unattractive battery life you're going need to ask yourself why you're not buying a desktop for the same price with the same specs. Still, if you were saving up for an Alienware machine, the Toshiba Qosmio X770 will certainly save you a few quid. ®
More Notebook Reviews

Acer
Timeline X
5830T
Sony
Vaio
SB
Dell
Alienware
M18x
Apple
MacBook
Air 13
HP
Pavilion
dv7
Sponsored: Minds Mastering Machines - Call for papers now open

Toshiba Qosmio X770 17.3in 3D gaming notebook
Nifty Core-i7 gaming laptop with 3D extras.