Toshiba Qosmio X770 17.3in 3D gaming notebook
Fully loaded
Visual impact
There's no need to worry about ghosting or lag either, as it seems that the screen's rapid 120Hz refresh handles movie action sequences, FPS graphics and lightsabre battles just dandy.
Benchmark Tests
PCMark 7 Results

Longer bars are better
PCMark Vantage Results

Longer bars are better
I know we would all like to think that 3D is a passing fad, but I am becoming resigned to things popping out of the screen at me for the near future. Linking the Nvidia shutter glasses was simple but don't think I will be wearing them out. It took me a while to configure the stereoscopic 3D but once it kicked in I was suitably impressed. The 3D was clear but, perhaps understandably, not as impressive on a small screen as it is at the cinema.
Battery Life Results

Battery life in minutes
Longer bars are better
It took me a while to turn off the Nostromo-like hum that seems to come as a default theme sound on this fatty. Still, I've made no secret of my views on the significant difference good audio can make to gaming. As laptop sound system, I was impressed by the sound produced by the integrated Harman Kardon stero speakers and sub-woofer offered to both gaming and movie audio.
The X770's 2GHz Intel Core i7-2630QM has 8GB of Ram to play with – a combination of quad-core CPU and an abundance of memory that delivers a noticeably fast response when performing everyday tasks. Yet there's no escaping the fact that the Qosmio X770's main selling point is that it is designed specifically for gamers.
Now, let's play some games. I installed Steam so I could see how it runs on my current gaming list. I'd been reading that many people were having issues running Red Orchestra 2 so I thought that would be a great one to start with. I found it ran just as well as the two gaming desktops I own, averaging 30-40f/s on mid to high settings.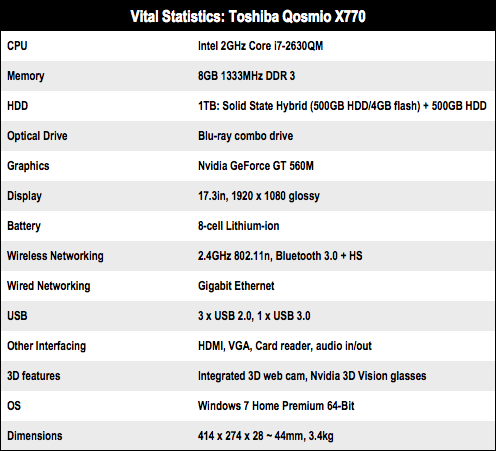 Sponsored: Minds Mastering Machines - Call for papers now open